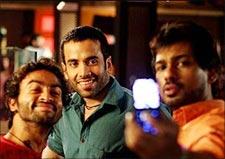 Director duo Raj-Krishna initiated their Bollywood outing with a thoroughly amusing yet unmemorable 99 (Kunal Khemu, Cyrus Broacha). Traces of them being great storytellers weren't missed in the terror-comedy.

They somehow have a fixation with bombs and petty thieves, with maniacal chaos, and conspiracies. And at such scale, it initially comes across as seemingly impossible but trust them to take you through on an impossibly thrilling roller-coaster ride, backed by heart-thumping tunes, and some of the greatest performances we can recollect in recent times.

Shor In The City is a classic instance of one of the finest screenplays written with phenomenal editing (Ashmith Kunder), all this shot crisply -- the attention of the camera zooming at certain instances leave you captivated, too overwhelmed to react, because this film, dear spectators, is made to kick you off-guard.

The film is cleverly broken into three sets of people -- not quite belonging to a contrasting societal stature, but with ambitions and aspirations towering the moon.
Sendhil Ramamurthy's Abhay is a foreign-returned guy, aiming to carve out a profitable small business in the city, and is facing chaos in the form of getting the logistics at place. While he's setting up his office, a trio of petty crooks pretend to help him out, later revealing their murkier side by demanding hefty protection money.
The makers show immense intelligence as Abhay's story is chronicled through the Ganesh festival, with the completion metaphorically reaching at the time of 'visarjan'. Classic.
Another cluster of three -- Tusshar Kapoor's Tilak, Pitobash Tripathy's Mandook, and Nikhil Dwiwedi's Ramesh are a hopeless lot. They carry out eccentric activities like Tilak's book-piracy (they kidnap Robin Sharma for his yet unreleased manuscript. Brilliant, this) to trying to sell their way into a supposed realm of gold by accidentally coming across a bagful of arms and ammunition.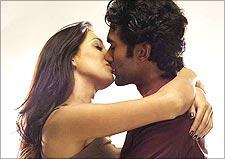 Chaos is metaphoric in the madness of their daily business, and the sadness and thanklessness and the eccentric pleasure in doing the insane. At one instance, one dynamic player (Mandook) just decides to blow up a bomb because he hasn't seen things exploding live, and yes, they go ahead.
The third story -- Sundeep Kishan's Savan -- is the strongest of the lot. He's an up and coming teen with an irrefutable passion to be in the cricket team, battling demons on the both ends of the pitch -- the shadowy way for an entry in the T20 team, to his girlfriend who's helplessly caught in a situation of getting married elsewhere.
Shor In The City scores heavily in its unmistakably strong characterisation -- each of them so poignant, you go overboard with at least one emotion that they evoke. So if there is a sense of deep sympathy for Abhay, who's compelled to reach the other side of law to set matters straight, there is gnashing of teeth at those shady goons. Abhay's transition is effortless -- from being an innocent and ambitious biz person to getting his hands dirty -- he adds a lot of depth to his character that is conveyed by his bustling anger.
Ditto for Tusshar's Tilak whose life is partly revolutionized as he flips through The Alchemist and seeks a life of spirituality and solace, but not before morally aiding his cronies in a climatic bank heist.
Sundeep's provocation is well-justified and his character completion is near-perfect. For him, it's the sheer helplessness, and frustration that we emote.
Picking up an unusually strong element of chaos -- the screenwriters exploit the theme to its full potential by demonstrating it in varied, interesting hues. Also added in a beautifully plausible fashion is the comedic feature that is more situational than deliberate.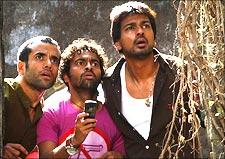 But above all, Pitobash Tripathy's city cheapster, wannabe cool act deserves all the shining glory. He is so terrifically convincing, you beg for more of his screen-time.
Watch out for a scene in the lavatory of a shady bar, wherein he is torturing an unsuspecting person for a previous rivalry. 
As the film comes to a pulsating termination, you are beguiled, and maddened, muted and awed by the unraveling chaos, as Tusshar Kanti Ray's camera invades into the unseen or rather, overlooked sights of the city, and how exceptionally well the three stories are knitted into one frenzied lot.
Dialogues bear a charming authenticity; they are more like conversations of real people clandestinely tapped.
Raj-Krishna's Shor In The City robotically registers itself in Indian cinema's history. Many thanks; you guys have elevated our filmi standards to mounting heights. And Ekta Kapoor, you are a woman of paradox, you make us cry on the idiot box, whereas those cries are converted into spells of disbelief as you financially aid in charting out historic, cinematic delicacies. There, take a bow.
And all you, you don't have one plausible reason to skip this one. That'd be tragic to say the least.
Rediff Rating: