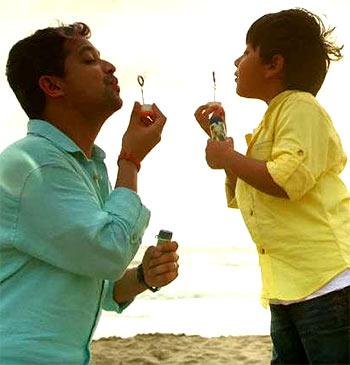 Hopefully, this sex chat will start many conversations, feels Namrata Thakker.
Sex Chat with Pappu & Papa is a new web series launched by Y Films, the youth wing of Yash Raj Films.
As the title suggests, the show is about everything related to sex, from masturbation to condoms to homosexuality.
In fact, Sex Chat with Pappu & Papa is more like a sex education session. It's informative, the language is simple and most importantly, producer-director Ashish Patil crafts this web series in a humorous way. It emphasises that kids should get to know about sex from their parents, rather than from the internet or any other source.
Since sex education is hardly available in schools, this web series is going to demystify a lot of myths for kids, teenagers and possibly even adults who rely on Google for everything.
The show stars Anand Tiwari, child artist Kabir Sajid, Sanjeeda Shaikh, Alka Amin and veteran actor Sachin Pilgaonkar.
The first episode of Sex Chat is about masturbation and how Papa (Anand Tiwari) explains this term to Pappu (Kabir Sajid) in a language that he understands. He uses the popular Jack and Jill nursery rhyme to get across his point in a simple manner.
Since I got to watch all the episodes of first season, let me tell you the writers -- Gopal Datt and Devang Kakkad -- have done a fantastic job in keeping things simple and clear, without getting sleazy or incorporating double meaning words.
When you are making a show or a film that revolves around sex and such themes, it's tough to make sure you don't end up with vulgar content. That's not the case here, and that's among the best parts of this show.
They have especially handled the topic of Homosexuality beautifully. It's something Bollywood filmmakers need to learn.
At the end of every show, there are some important facts about the topic, and that works as well.
Every actor in the show is perfectly cast. The father-son bonding between Anand Tiwari and Kabir Sajid has been captured well.
Initially, it may seem strange to see a child talk about masturbation with his father but then that's the whole point of this show -- parents shouldn't shy away from having *the talk* with their kids and vice versa.
There is a emotional song about father-son relationship and though I liked it, it wasn't really needed. It was a Bollywood touch, which just didn't work at all.
Some of the punch-lines seemed forced as well but overall, the mini-series is worth a watch.
A cool concept, you get to learn a lot without the show being too preachy. Hopefully, this sex chat will start many conversations from here on.
Rediff Rating: