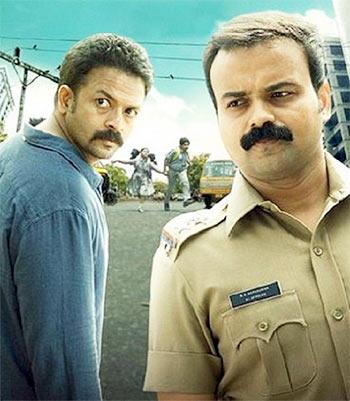 The only novelty in School Bus is the much publicised casting of Kunchakko Boban as the cop investigating the case of the missing child, writes Paresh Palicha.
There is a section of people who believe that the primary purpose of a film is to convey a message, everything else is secondary.
Writer duo Bobby-Sanjay belong to this tribe; their films always make an effort to drive viewers onto the righteous path.
A major chunk of their work is in collaboration with director Rosshan Andrrews.
Their latest venture, School Bus, shows how young, upwardly mobile urban couples go wrong while bringing up their children.
The story is about one such couple -- Joseph (Jayasurya) and Aparna (Aparna Gopinath) -- who seem to be poles apart.
While Joseph believes the man should have the final say in things concerning the house, Aparna thinks both of them should have equal rights and responsibilities.
He is a corporate honcho whose phone is always stuck to his ear and she runs a boutique. Their school-going children are virtually self dependent, except for a domestic help to care of their basic needs.
Even when it comes to handling their children, Joseph and Aparna have different approaches. The former doesn't mind hitting them if necessary and mostly remains aloof while the latter behaves according to circumstance.
Aparna is approachable and shares information with her kids as to what is going on around them (like their father is having a dispute with his elder brother over the property they had inherited). She tries to explain them that their father may be fighting a legal battle with their uncle but that does not mean he is a bad man or doesn't love his brother. She makes them understand that their father is asking for something which is rightfully his and in the future will belong to them.
Apart from all the things mentioned above, School Bus is a children's film where they make up stories while going to and coming back from school.
Ajoy (Aakash Muraleedharan) and Angelleena (Angelleena Rosshan) are Joseph and Aparna's kids.
Ajoy has a reputation of being a spoilt brat in the school but he is, basically, a nature enthusiast and his mischief revolves around his wish to experience nature. When one such mischief goes fatally wrong, he first dodges going to school along with his sister and then runs away fearing severe punishment.
Most part of the second half focuses on finding the missing kid in the jungle (Ajoy runs off to the place where his domestic help came from as her son had shared enticing stories of the wild).
The script does share lessons in good parenting, the bad effects of rapid urbanisation on children and even the pressures of the modern education system. It feels like we are hearing a counselling session.
The only novelty we find is the much publicised casting of Kunchakko Boban as the cop investigating the case of a missing child. He is presented as a police officer who has recently joined the force and is learning the ropes as he goes along.
The rest of the casting seems to go through the motions, not leaving us much to think about or be inspired.
School Bus turns out to be an average fare without much to offer.
Rediff Rating: