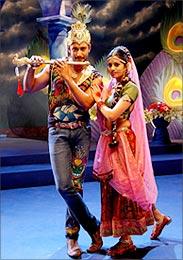 Shruti Indira Lakshminarayana feels Kannada film Sarathy is for Darshan fans only
.
Post YOUR reviews here!
Darshan returns to the big screen with the revenge drama,
Sarathy
. He is teaming up with his brother and director Dinakar Tugdeep for the first time after Navagraha.
Raja (Darshan) is an upright auto driver, the kind you rarely chance upon in real life. It is when this honest auto driver cum messiah of the poor falls in love with a girl (Deepa Sanidhi) that his life gets a new dimension.
When Raja goes to a village to rescue his damsel in distress, his past catches up with him. Actually, Raja is the son of a brave village headman. Whether or not he takes the place of his father makes for the rest of the story.
Sarathy
is an action packed film. Starting with the introductory song, Darshan dominates every frame. As if his dancing and heroic actions were not enough to get his fans going, graphics have been used to recreate the image of Shankra Nag, the actor who was revered
by auto drivers after his film Auto Raja. He is seen shaking a leg in Darshan's intro song.
Soon after the song, Dinakar gets into a fight. The film is in fact replete with action sequences…autos, body builders and JCBs…but none of them are any match for our hero. 
When Darshan is not bashing up the baddies, he is mouthing punchy dialogues and his fans don't care where the story is going. Post interval it's almost like an entirely new story and the plot tries your patience. But there are enough fights and songs to keep the fans engaged.
The film touches upon mining and farmers' issues but not in any meaningful way. The songs are nothing great either.
Darshan's acting should go down well with his fans. Sharath Kumar, who makes his presence felt in the second half, makes a significant contribution to the plot. But his dubbing artiste fails him. The villain pitted opposite Darshan fails in comparison. Deepa is adequate and Rangayana Raghu provides the much needed comic respite. Lohitashwa and Sharath Lohitashwa are also part of the cast.
This modern
Mahabharata
provides the 'Challenging Star' with quite a few challenges and it's only if you are a fan of his that you will find the film worth a watch.
Rediff Rating: