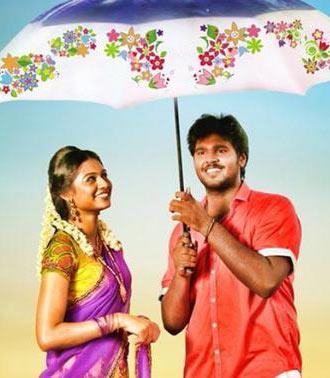 Director Surendran's Sagaptham is a slow paced, tiresome action drama that attempts to portray the hardships of the desperate unemployed people, who go abroad in search of jobs, says S Saraswathi
Shanmugapandian, the son of actor of yesteryear-turned-politician Vijayakanth, makes his debut in an action drama titled Sagaptham.
The film is directed by Surendran.
The film attempts to portray the hardships of the multitude of desperate, unemployed people, who go abroad in search of better jobs.
However, the purpose of the films seems to be on making the baby-faced hero mouth over-the-top dialogues that are reminiscent of his father.
There are references to his powerful eyes, generous heart and helping nature.
The youngster even attempts the popular punch lines from A R Murugadoss's Ramanaa (one of Vijayakanth's biggest hits), converting it into Manippu enga parambaraikke pidikkadha varthai (Forgiveness is a word hated by our family).
To top it all, Vijayakanth himself appears in the climax scene and claims that the youngster reminds him of himself 25 years ago!
Though the plot sounds interesting, it unfolds at an extremely slow pace.
Saga (Shanmugapandian) and his friend, played by Jagan, are simpletons from a small village. Many in their village have migrated to Malaysia in search of better jobs.
One such person borrows Rs 3 lakh to pay an agent, and moves to Malaysia leaving behind his young wife Lakshmi (Devayani), his son, and aged mother. Soon after, the family loses contact with him.
The lecherous moneylender is now torturing Lakshmi for sexual favours.
Saga saves her from his clutches, but decides to go to Malaysia himself to investigate, and also to find jobs for himself and his friend.
The first half of the film ends with Saga and his friend being arrested at the airport when he enters Malyasia.
How he extricates himself from this mess and solves the case of the missing Indians forms the rest of the story.
There are two female leads. In the village, Saga is pursued by his uncle's daughter, played by Neha Hinge, a former Femina Miss India.
In Malaysia it is his boss, played by Shubra Aiyappa, who has fallen for his charms. Though both are attractive, their lip synching skills are so terrible it will make you cringe.
Jagan and Singampuli, who also acts in the film, are too loud and over enthusiastic and their jokes fall flat.
Vijayakanth earned a loyal fan following with his numerous films on patriotism and helping the common man fight against corruption and injustice.
But an inexperienced Shanmugapandian with his baby face and unflattering wardrobe has still a long way to go before he can take up the mantle.
Director Surendran's Sagaptham seems like it is just paying homage to the once popular actor.
You empathise with this earnest youngster, who has been made a scapegoat in the director's attempt to glorify Vijayakanth.
Rediff Rating: