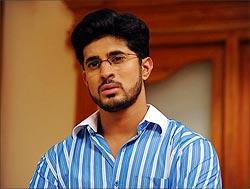 Radhika Rajamani feels Telugu film Rushi should be appreciated for tackling a novel concept in a meaningful way.
Raj Madiraju's
Rushi
signals the revival of Prasad Productions after almost three decades.
Set against a medical background, it explores the lives of medical students and their subsequent transformation into full-fledged doctors through the lead pair of Rushi (Aravind Krishna) and Pooja (Supriya Shelja).
Venkat (Ravi), a television journalist, tells us that Rushi is a hero who is fighting a case. Rushi's life unfolds as he talks about it to Venkat.
When still a fresher, Rushi meets Pooja. Initially, he says he became a doctor in order to make money. But over time his perceptions underwent a change and he began to care for his profession and his patients.
On a bus journey, the medical students encounter a young boy, Karthik (Master Gaurav) who is in severe pain. Rushi admits him in a hospital and begins treatment even though he is not yet qualified to do so because there is no one else around.
Rishi is criticised for doing so, but he answers his critics by studying the case (together with his six friends and Pooja) and coming up with the solution – a heart transplant -- which is ratified by a panel of experts.
The
search is now on for a donor. In the meanwhile there is a twist in the tale. The climax and what goes before is a bit hard to take in and not everyone will agree with it on humanistic and legal grounds. But, then, this is cinema.
The characters are realistically portrayed and the first half is quite fun and breezy. In the second half, director Raj Madiraju gets more intense and the audience is sucked into a vortex of emotion once the Rushi-Pooja-Karthik track begins.
The number of songs could have been trimmed. The dialogues are okay, swinging from serious to frivolous. The director has ensured the research is in place, which is important for a movie of this kind.
Aravind Krishna is suited to the role he plays (barring his hair style in the first half). He looked serious and mature enough to carry the role and came out with a decent performance.
Supriya Shelja has acted better in the second half which is more emotional. Master Gaurav is cute as Karthik.
Some of the songs by Snighdha and Don-Chandran's music are good. On the technical front, the film is passable.
Rushi
has a meaningful theme. The film should be appreciated for tackling a different subject and a significant theme.
Rediff Rating
: