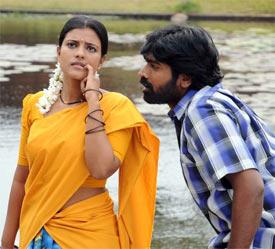 Vijay Sethupathi's Rummy -- directed by debutant Balakrishnan -- is an engaging village-based dark romantic thriller set in the 1980s, writes S Saraswathi.

Actor Vijay Sethupathi was one of the biggest successes of 2013 with a series of films that were both critically acclaimed as well as commercially successful.

His latest Tamil film, Rummy is directed by debutant K Balakrishnan, who worked with director Lingusamy for 10 years as production controller and has also acted in several films such as Thoonganagaram and Naan Mahaan Alla.

The film features Iyshwarya Rajesh, Gayathri, Inigo Prabhakaran, Soori and Sentrayan in pivotal roles.

Rummy is set in the 1980s in a college in Sivagangai. Joseph (Vijay Sethupathi), Sakthi (Inigo Prabhakaran), Arunachalam (Soori) and Meenakshi (Gayathrie Shankar) are first year students. While Joseph and Sakthi stay at the college hostel, Arunachalam and Meenakshi travel from the adjoining village.

It is love at first sight for Sakthi and Meenakshi. But Meenakshi is also being pursued by another college mate, Sayed. A few skirmishes between Sakthi and Sayed results in them being expelled from the college hostel.

They now find accommodation in Meenakshi's village and love blossoms between the two.

Meanwhile, Joseph meets and falls in love with another village belle, Swarnam (Iyshwarya Rajesh)

The first half of the film is a romantic interlude in typical 1980s style, but there are also subtle undercurrents of violence and menace.
The villagers are very protective of their girls and do not hesitate to even kill those attempting to woo them.
Predictably, his antagonism explodes, consuming everyone involved.
The performances of the lead actors and the authentic recreation of the 1980s era are the biggest pluses of the film. Everything from the hair style, the costume, the vehicles, right down to the rubber chappals, and even the demeanor of the lovers -- the long shy glances and demure smile -- are reminiscent of the '80s.
Music by D Imman brings to mind the beautiful melodies of the '80s. All the tracks in the film are extremely well-picturised with beautiful lyrics and vocals. Adiye Yenna Raagam and Koodamela Koodavechi are the pick of the lot.
Cinematographer C Prem Kumar has skilfully captured the scenic countryside and majestic temples, and the huge stone mountains look magnificent and provide the right backdrop for the film.
Though slow, the brilliant chemistry of the lead actors and their romances keep one totally engrossed. Unfortunately, the second half is a huge disappointment; all the hatred and violence seems extremely predictable.
Vijay Sethupathi fans may feel let down, as Inigo Prabhakaran clocks in more on-screen time.
Both Gayathri and Iyshwarya have given excellent performances and deserve special mention. Parotta Soori, however, does not evoke much laughter.
Debutant director K Balakrishnan's Rummy is an engaging film, let down by an average screenplay and the extremely slow pace.
Rediff Rating: