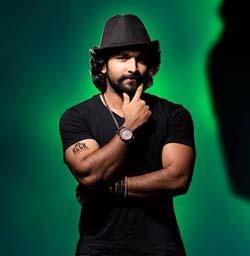 The humour in Rockstar waters down the impact of some of the serious issues being raised, writes Paresh C Palicha.
Many fear that youngsters lead a reckless life and forget the tradition and values upheld by their families and yet, they don't cross their limits.
Director V K Prakash explores this premise in his new film Rockstar. It tells the story of a young singer named Anand Abraham (Siddharth Menon). He is the lead singer of a band called On the Rocks, and has hordes of female fans. He leads a promiscuous life and has to face consequences because of this.
Writer Rajashree Balaram laces her story with humour and it feels that having a sexual fling is just like trying out food at a new restaurant -- if you like the experience, you return otherwise you forget about it.
So, when Anand meets Athira (Eva Pavithran), an upmarket beauty consultant, sparks fly and they end up in bed. After the event, they part ways amicably.
It appears that the film is a modern love story where the protagonists are evolved but after this point, Rockstar follows a conventional route.
Athira gets pregnant. She decides to keep the child without letting her partner know about it. Her parents (Prakash Bare and Poornima Bhagyraj) support her decision.
Trouble starts when Anand comes to know about it.
There is humour in every situation, and that waters down the impact of some of the serious issues being raised in the film.
The depth of the characters isn't explored fully.
We rarely get to see an overweight leading lady in her early thirties, who is so comfortable in her skin. Kudos to Eva Pavithran for accepting this challenge and winning the day.
Siddhrath Menon, playing rugged young man with soft core, puts in a lot of effort in his performance and it shows.
Rockstar finds it hard to deliver on its initial promise.
Rediff Rating: