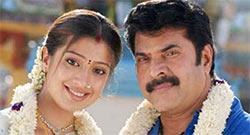 Rajadhi Raja is a lacklustre Onam release, writes Paresh C Palicha.
What are the ingredients of a typical masala film with a mega star in the lead? Obviously such a film is made to cash in on the star's fan base, so, the star is made to do things that are believed to be liked by his fans.
Mammootty's latest film Rajadhi Raja tries to do this at the very basic level.

The film directed by debutante Ajai Vasudev and written by the hit team of Udayakrishna and Sibi K Thomas present the star as a family man to begin with and then turn him into a super hero doing stylised fight scenes taking on dozens of fighters in a go, by the half time.
Shekharan Kutty (Mammootty) runs a roadside eatery in a petrol pump somewhere on the Kerala Tamil Nadu border. He has a sweet wife, Radha (Lakshmi Rai) and a school going daughter. He is meek by nature and does not get involved in fights or fracas of any kind, whatever be the provocation.
His ideal lifestyle is disturbed when his wife's cousin Swami Ayyappan (Jojo) lands up to stay with him. He is a typical funny man with a criminal background who as opposed to Shekharan Kutty, gets involved in anything going on around the petrol pump.
The story takes a predictable twist after a while when a bunch of bad guys come to the place.
At first, we are made to believe that it may be a case of mistaken identity but soon we realise that Shekharan's past is catching up with him. As the whim of brains behind this film go, he was once a dreaded underworld don Raja in Mumbai and an accused in serial blasts that had rocked the metro city. As per police records, Raja was killed in an encounter.
This film's tagline is 'the king is back' and we should take it in the literal sense that this star is back to please his fans after a few box office duds. And, his fans do clap and whistle once a while seeing the gimmicks of their favourite actor, but, for the viewer who ventures into the theatre without allegiance to the star as such, it is tedious to keep focus on the proceedings on the screen without yawning!
It seems to be the season of superstars sporting a beard; last week it was Mohanlal with a trimmed beard in Peruchazhi and this week, it is the turn of Mammootty to sport a stubble along with shoulder length hair and Ray Ban glasses (so much for being stylish!). Anyway, the role as such does not demand much else from him.
As for other novelty in this film, there are a few actors from Mumbai who have passed their prime like Mukesh Khanna (of Shaktimaan fame, who is made to dance on a Hindi song) and Raza Murad.
Jojo is the only person who somewhat maintains his charm in the presence of Mammootty. Nobody else get such a chance, be it Siddique or Joy Mathew.
Rajadhi Raja proves to be a lacklustre Onam release.
Rediff Rating: