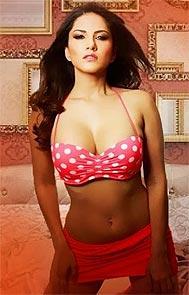 Sunny Leone looks hot alright but with the scary scenes being average at best, Ragini MMS 2 isn't half as scary as it is supposed to be, says Namita Karkera.

Ragini MMS 2 begins with shots from its prequel running in the background.

Part One was the story of a young couple, Ragini and Uday, who spend a weekend in a haunted house.

The second one starts with Ragini in an asylum and a filmmaker Rock (Pravin Dabbas) wanting to make a 'horrex' film (horror + sex) based on her life with Sunny Leone in the lead role.

The writer of this story Satya (Saahil Prem) suggests that this movie be shot in the same location where the original incident took place.

As the shooting begins, strange and horrifying incidents start taking place on the sets.

The movie is filled with tons of 'scary' and erotic moments.

Compared to her previous movies -- Jism 2 and Jackpot -- Sunny Leone does a good job in this one.

Director Bhushan Patel makes full use of her talents in the erotic scenes.

The scary scenes are average... not so scary, to say the least.
In fact, there is considerable comic relief thanks to the parts that Sandhya Mridul and Karan Mehra play.
At best, the film seems like a spoof.
The second half of the movie however fares better. This is where the story of the spirit is unveiled.

The movie has good music -- Baby Doll and Chaar Botal Vodka are real chartbusters.

Overall, the movie still manages to scare at times but it also makes us laugh and gives us the opportunity enjoy Sunny Leone in her skimpy outfits.

Rediff Rating: