'It is intense, riveting, clever, dark, sad, lyrical, heartfelt, relevant and understated,' says Sukanya Verma.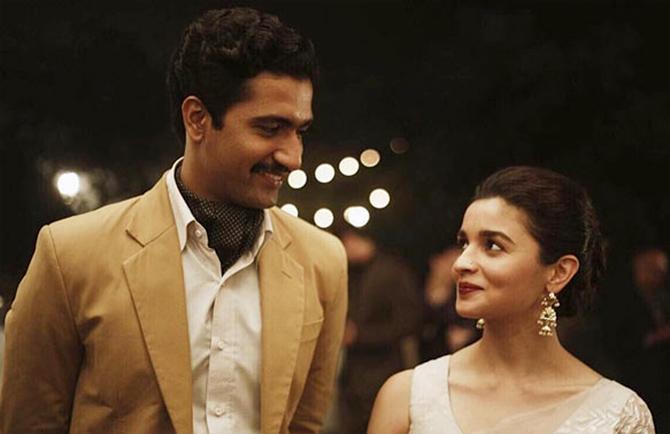 These are insincere times and one takes anything remotely nationalistic in nature with a pinch of suspicion.
But in Meghna Gulzar's Raazi, its mechanics are put to force as well under a microscope to understand how war is waged and the sacrifices it entails.
'Jung mein sirf jung hoti hai,' explains a hard-nosed intelligence expert to a freshly inducted recruit.
The unsettling implications of his plainly worded logic is gradually disclosed, elevating Raazi from a slick, tense thriller to a timely human story.
Fighting for one's country may be a matter of great honour and pride, but the road to it isn't one of scruples or integrity.
Most of the times our cinema is so preoccupied in showing the jingoistic face of such pursuits that it neglects to notice the disadvantages of the job or acknowledge its executors as flesh and blood.
Not Raazi.
Meghna Gulzar tactfully lays out the irony believing her audience will show the good sense to recognise the duality that alternates between governing its central protagonist's impulses and assailing her conscience.
The journey, experienced through a college dropout, feels personal and daunting.
Alia Bhatt's Sehmat is a young, rose-cheeked, Kashmiri girl studying in Delhi when her dying father (Rajit Kapur doing some of his best work in a brief but important role) summons her back to replace him in the family business: Espionage.
As absurd the notion is, it's still 1971 and Bobby's teenage rebellion is two years away from rubbing off on many impressionable minds.
With the threat of Indo-Pak war looming large, the general mood is defined by catchwords like 'desh' 'mulk' and 'watan'.
Playing the illness card has emotional manipulation written all over it, Meghna Gulzar doesn't even pretend to deny it. Rather, she highlights its effectiveness in a moment of masterstroke judgement.
Though hesitant, Sehmat obliges in the tradition of dutiful daughters and signs up to be a Research and Analysis Wing agent. It's easier said than done, she soon learns while getting the hang of surveillance trade from a deadpan, hard taskmaster (jackpot delivery from Jaydeep Ahlawat).
Unable to take it one day, she snaps back and cries at the sheer unfairness of expecting miracles out of her on such short notice.
It's the way it is, he tells her curtly.
These sharp edges stand Raazi's patriotism is professionalism view in good stead.
And yet, there's something almost Shakespearean about the intense guilt haunting Sehmat's soul following her political marriage to an army man (Vicky Kaushal pales to Alia's charisma) across the border.
Spying and sex aren't mutually exclusive. The genuineness of being and behaving is something only an individual can know.
How much of a weapon can a person be without the human interfering with it? Raazi lets you decide.
Despite its meticulous storytelling, it is one of the most open to interpretation scripts in terms of characterisation. Sehmat's occupational hazards lead to much despair but her obligation is greater than her compassion.
Alia's greatest triumph is to sink under Sehmat's anguish while also feel the horror of her cold determination when she announces 'Watan ke aage kuch nahi.'
As Sehmat, she looks at us straight in the eye, dares us to find loopholes in her resolve and see through her panic.
Confidence is a mask her kind face wears round the clock and drops only to catch a breather.
If anything, her vulnerability makes her even stronger in our eyes.
Alia's metamorphosis from squirrel saviour to savage soldier is what acting is all about.
I just feel dizzy thinking about the heights she'll attain in future.
Based on former Indian naval officer Harinder Sikka's novel Calling Sehmat, it is the true story of a spy responsible for providing information that foiled Pakistan's plan to sink the INS Vikrant.
I am yet to read the book, but Raazi is told entirely from Sehmat's perspective. And it is as balanced as Meghna Gulzar's direction, which looks at heroism as an afterthought and Indians and Pakistanis as people at work, not messengers of peace, doom or mischief.
It is what makes the casualties of Sehmat's objective all the more tragic.
The sensitivity that marked her direction in Talvar is further reflected in the way Meghna Gulzar highlights the strength of silence and symbols to create an atmosphere of nail-biting claustrophobia and hostility.
Raazi's grave premise doesn't make it any less spellbinding.
Espionage tactics like surreptitiously installed wires, hastily typed Morse code, reading between the lines in code speech, moles in disguise, the works -- are fun even in their predictability.
Besides its crisp editing (Nikhil Baid), sharp camerawork (Jay I Patel) and poignant music (Shankar-Ehsaan-Loy/Gulzar) aid its storytelling, as areas of technique ought to.
Raazi is a rarity. It is intense, riveting, clever, dark, sad, lyrical, heartfelt, relevant and understated.
So many movies labour to create flag-wavers and compel us to care.
This one only tries to tell a story and succeeds.
Rediff Rating: