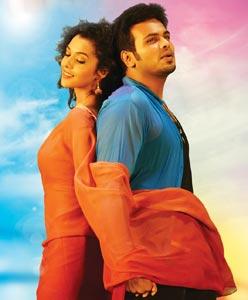 Potugadu is loud and 'crude' entertainment writes Radhika Rajamani.

Potugadu offers an unending stream of double entendres and a surfeit of Manoj Manchu.

It is a remake of the Kannada film, Govindaya Namaha, and has the same director, Pawan Wadeyar.

Govind (Manoj Manchu) wants to commit suicide and decides to jump off a cliff. As he is enjoying a last drink, up comes Venkat (Posani), who has also come here to commit suicide because his lover has left him.

Venkat wants to know why Govind wants to commit suicide. Govind's story is narrated in flashback. It features four girls in his life – Vaidehi (Simran Kaur Mundi), Mumtaz (Sakshi Chaudhury), Stacy (Rachel Wise) and Mary (Anupriya).

He falls in love with the first two girls but dumps them. He gets Stacy away from her lover (played by the director Pawan Wadeyar). Then he genuinely falls for Mary, but here there is a twist. It's this twist which is the good part of the film.

Govind reminisces
about all the four girls in his life, who he romances and then dumps. Though he turns over a new leaf towards the end, that doesn't redeem the film, which portrays the women as objects to be discarded at will.
The film is characterised by loud humour, double entendres and quite a bit of action. The director seems to have given Manoj a free hand and he has taken full advantage of it.
He is present in almost every frame. He is vivacious and over the top at times. There's no doubt that he has talent. But a slightly toned down performance would have made for better viewing.
Simran doesn't impress much. Rachel is okay, while Sakshi and Anupriya make some impact. Posani is the other pillar of the film. He gives a good performance.
Achu's music sounds different and the song
Pyar Mein Padipoya
was choreographed well against a historical monument in black and white and colour.
The film may appeal to those who enjoy double entendres and crude entertainment. Others can happily give it a miss.
Rediff Rating :