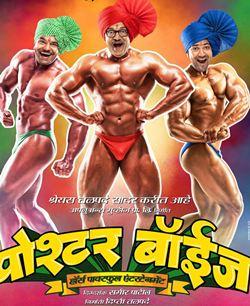 Poshter Boyz is a hilarious act. Had Dada Kondke been alive today, he would have gone gaga over Poshter Boyz's double-meaning, yet refined dialogues, says Prasanna D Zore.
Three men -- a lover boy (Aniket Vishwasrao) who is loud and over-the-top and romances a damsel, a sedate school teacher (Rishikesh Joshi) with two small girls and a wife who keeps pushing him (no pun intended here) for a baby-boy, and a middle-aged farmer (Dilip Prabhavalkar) with a son, who is married and an about-to-get-married daughter -- happen to intersect each others' lives on a poster to promote vasectomy -- nasbandi ;-) does that ring a bell? -- among males in a village and that sets Poshter Boyz rolling.
Rocking and rolling, actually.
Not only is the chemistry, body language and dialogue delivery of these three gentlemen/actors, who represent different ages in a male's evolution, absolutely striking -- they remind you of Paresh Rawal, Suneil Shetty and Akshay Kumar in the original Hera Pheri, yet trying to get out of an altogether different hilarious yet helpless situation -- they deliver director and dialogue-writer Sameer Patil's vision absolutely flawlessly.
Patil's dialogues while full of double meaning don't sound vulgar or crude. The finesse and comfort with which these double-meaning dialogues are delivered by these three men, and of course their counterparts (female), make them sound easy on your ears even as they make you go ROFL.
That too, every two or three minutes, non-stop, throughout the film.
The dialogues, unlike Dada Kondke's, are humorous withou being crude, and therein lies the beauty of Patil's trade. That is the reason why Dada Kondke would have bowed before Patil. Full marks to Patil for dishing out such amazing dialogues.
You don't need too much knowledge of the Marathi language or understand its nuances to go ROFL. You just need to be attentive. You just need to concentrate on the expressions and style with which they are delivered.
Among lead heroines while Vishwasrao's love interest -- Pooja Sawant -- doesn't have much to do, it is Joshi's wife, Neha Joshi, who walks with all the accolades.
The scene where Joshi tries to pacify his estranged wife -- remember the wife wants a baby boy and believes she won't have it anymore because her husband has undergone vasectomy -- and how they talk to each other about their sex lives and male anatomy in front of his in laws leaves you in thunderous splits.
Neha Joshi as a wife who yearns for a baby-boy matches the three male leads, scene-for-scene.
Leslie Lewis's music rocks. Worth special mention is the title songs that plays as the credits roll at the end of the film.
Producer duo of Deepti and Shreyas Talpade, who has also played a cameo -- along with Farah Khan, Rohit Shetty, Anu Malik -- in Poshter Boyz, has not only made a laugh riot that attacks social evils like gender discrimination at birth but also a film that satirises an inept government bureaucracy.
Rediff Rating:

(1.5 stars to Neha Joshi for playing the fuming wife and 3 stars for the three male leads and of course, director-dialogue writer Sameer Patil for pulling off such an amazing film).