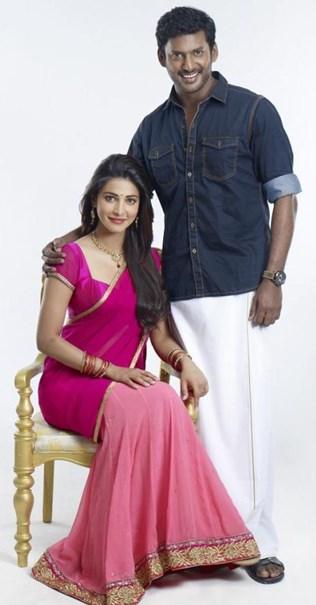 Poojai is your standard Hari fare, says S Saraswathi.
Singam director Hari has teamed up with Vishal for his latest offering, Poojai.
Seven years ago, the duo worked together in the hugely successful Thaamirabharani. This time around though, Vishal has produced the movie himself under the banner of Vishal Film Factory.
Much like his earlier films, Poojai too is a racy action entertainer packed with sensational action sequences, family sentiments, romance, comedy, punch dialogues and flying vehicles accompanied by loud pulsating music.
Vasu (Vishal) and his friend, Kutti Puli (Soori) make a living lending money at high interest rates. Life is all fun and games, drinking with buddies, smoking and beating up the people who cannot return their money.
Vasu meets Divya (Shruti Haasan), they become friends and fall in love.
Things start to heat up when Vasu saves the life of DSP Sivakolunthu (Sathyaraj) from the clutches of the powerful Anna Thandavam (Mukesh Tiwari), a ruthless killer. An enraged Thandavam now targets Vasu, determined to kill him.
Meanwhile we learn of Vasu's background. He belongs to a rich and well-respected family of textile owners in Coimbatore. A misunderstanding causes his mother (Raadhika Sarathkumar) to throw him out of the house and hence the money lending business.
The narrative moves so quickly that even before the end of the first half, we have our one man army, Vasu, decimating the entire gang and warning Thandavam to stay out of his life.
But incidentally, Thandavam messes with Vasu's family and soon matters get out of hand. From Coimbatore, the scene shifts to Pollachi and then to Patna in a series of over-the-top action sequences with Vasu emerging victorious every time.
Though the tale seems quite predictable, Hari has added sufficient twists and turns to keep the audience engrossed. The romantic angle between Vishal and Shruti works well and they look good together. Yuvan Shankar Raja's soundtrack, however, is a huge disappointment, taking away all the fun from their duets.
Soori and Imman Annachi do maintain the comic quotient to some extent, but get repetitive after a while.
Performance wise, Sathyaraj is impressive as a tough and honest cop, but Vishal keeps stealing his thunder, leaving him little to do. Raadhika too is wasted.
The slim and sexy, Shruti looks lovely and also gives a good performance.
This is without doubt a tailor-made role for Vishal, who at least makes all the incredible stunt scenes seem quite plausible. After two successive hits, Pandianadu and Naan Sigappu Manithan, Vishal is definitely on a roll.
Poojai is your standard Hari fare; there is loads of everything that we expect from him. The screenplay may not be as exciting as some of his earlier hits, but it keeps you entertained just the same.
Rediff Rating: