For all those who thought Tamil filmdom doesn't use fantasy and mythology elements in a modern set-up or come up with fun movies for children, Panchamirtham comes as a surprise.
Abhirami Ramanathan's maiden Tamil film -- directed by Raju Easwaran -- has roped in mythological characters. Even if it isn't as funny or classy as they had promised, the team does deliver some laughs.
The film starts on an interesting note, as it takes you back to mythological times with Mareechan (Jayaram). Yes, the one that aped a golden deer in Rama's time and Idumban (Raju Easwaran) fighting for the favours of Mandakini, their guru's daughter.
Idumban, being the evil villain with equally evil laughter, undergoes the humiliation of being changed into an anklet on Mareechan's ankle. Up comes Ravanan on his Pushpak Vimana (Prakash Raj here fits the role to the T), asking his uncle Mareechan to aid him in kidnapping Sita. Mareechan obliges and you know the rest -- but there is a twist. Mareechan begs Lord Rama's forgiveness but redemption will come to him only after many yugas.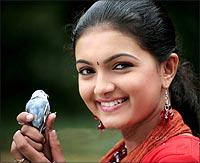 That, of course, allows a neat little peek into the present day, as you watch Sita (Saranya Mohan) hop, skip and dance in the Malayalak Karaiyoram, and enter the Ramavilas Estate in Ooty, for a job. Enter various sundry characters in the form of Rajaraman (Nasser), his scheming, silly and useless relatives Kasi and Thiruppathi (Ilavarasu and M S Bhaskar), along with a mildly insane Mayilsamy, who are keen on fleecing their rich relative as much as they can.
And then there's Sriram (Arvind), Rajaraman's cook, who has a history with Sita as well. Sita eventually gets the job and gets into her employer's good books. This necessitates her removal from earth, where Killer Pandi (Karunas) and his henchman Muthu (Kanja Karuppu) to do the honours. The problem here is Killer Pandi is a butcher.
And thus begins a breezy comedy in which Mareechan and Idumban come back to life, aid or destroy everyone's schemes liberally, arrows bring water, demons appear and disappear at will and anklets are found in the stomachs of fishes. Once you've gotten past the shock of seeing grown men prance around in sequined dresses and garish pearl necklaces, you sort of learn to switch off your brain and enjoy things.
Jayaram, for instance, certainly seems to have done so. When he's almost permanently around Saranya Mohan, helping her look like a ghost or making mischief around her enemies, you can't help but laugh at his antics. And the rest, in lesser portions, have done their best. Nasser, in his fisherman's avatar, leaves you in splits.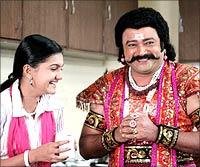 Ilavarasu, M S Bhaskar, Karunas and Kanja Karuppu have minor roles, but they make a mark. Arvind does his bit well but Saranya Mohan, whose role is pretty much dumbed down, doesn't make any impact. The climax, however, is a laugh-riot and more than makes up for any lapses in the whole film.
L Ganapathy's dialogues, especially among the mythological characters, are a refreshing experience. Sundar C Babu's music is a futile exercise.
The special effects take you by surprise, chiefly because you least expect it, and leave a good impression.
Raju Easwaran, on the other hand, has tried to make a full-length comedy on a weak script but he's been aided by consummate actors who understand the genre, and that saves the film many times.
Get your kids, and have a blast. They will enjoy it.
Rediff Rating: