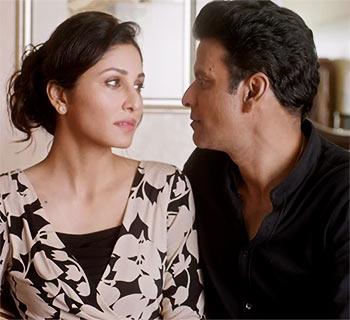 Neeraj Pandey's short film Ouch deals with a relevant topic, like an extra martial affair, without being preachy, feels Namrata Thakker.
Filmmaker Neeraj Pandey, who has made films like A Wednesday and MS Dhoni: The Untold Story, has made a short film titled Ouch.
Starring the very talented Manoj Bajpayee and Commando actress Pooja Chopra, the film was recently released at the 18th Jio MAMI Mumbai Film Festival.
The story revolves around Priya (Pooja) and Vinay (Manoj), who work together and have been in a relationship for three years.
But here's the catch: Both of them are married with kids.
The film opens with Vinay strutting into a hotel room, and then anxiously waiting for Priya to arrive.
She comes with a suitcase, and is in tears.
They sit down to discuss their future, and how their spouses have reacted to their asking for a divorce.
While Vinay tells Priya that he has revealed everything to his wife and got a flying pan hurled at her head in return, he is shocked when he realises Priya hasn't kept her end of the bargain and hasn't told her husband anything. In fact, she wants to call it quits with him.
All of a sudden, Vinay finds himself in a tight spot.
How he deals with Priya's rejection and get back to his wife is hilarious.
Manoj Bajpayee is absolutely brilliant with his comic timing and expressions. Even when he's doing nothing in the frame, he cracks you up.
Pooja Chopra is pretty good too.
The film's run time is little over 13 minutes and Neeraj Pandey manages to keep you glued to the screen with his quirky take on morality.
The film deals with a relevant topic like an extra martial affair without being preachy. It's real and hard-hitting but with a lot of humour.
Neeraj Pandey should now try his hand at making a full-fledged dark comedy feature film.
Rediff Rating: