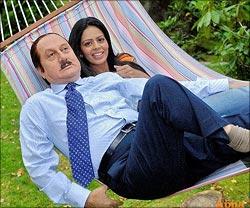 Mr Bhatti On Chutti is a comedy film but fails to make you laugh, writes Puja Banta.
Before the preview screening of
Mr Bhatti on Chutti
, Anupam Kher came on screen to say that the film was made when George Bush was the President of the United States. But it couldn't be released because '
hamare paas paise nahin the
' (we didn't have the money). It was an endearing message indeed. So I expanded my heart a little and prepared myself to overlook any minor flaws in the film.
And how I wish the flaws were minor!
The film opens with Mr. Bhatti (Anupam Kher) on phone trying to get through to 'The Whitehouse of the Washington of the America'. Did that make you laugh?
Then there is a small chance that you will like the film. Then comes Bhatti's ridiculous involuntary dance as any mobile phone rings. Did you laugh again? Okay, now there is a distinct possibility that you will like the film.
What about dialogues like 'There is a door in the corridoor (sic) and 'Does B.B. Bhatti mean Bed and Breakfast Bhatti'? Funny again? The chances of your liking the film are increasing by the minute.
But for me when a film's humour has to rely on Anupam Kher's forced, jerky and somewhat convulsive body movements rather than his superior acting skills, there is something wrong somewhere. A twitchy guy who keeps blabbering and stumbling is certainly not my brand of humour.
Mr.Bhatti On Chutti
is Director Karan Razdan's first attempt at comedy. It is also Bhairavi Goswami's first film (the first one she signed) and marks TV actor Pawan Shankar's debut in Bollywood.
Mr. Bhatti is an assistant bank manager who dreams of meeting George Bush and talking to him about world peace. He also idolises Amitabh Bachchan and spends a considerable time outside his bungalow waiting to catch a glimpse of the superstar. Suddenly and mysteriously, he wins a trip to England. He's part of a tour group which includes many sketchy characters. Pawan Shankar and actress Neha Pendse are also part of the group and get a couple of two-bit
scenes in the film.
Through some twists and turns in the plot, the trip goes awry for Bhatti and the movie for the viewer. The slapstick quotient increases and situations designed to elicit laughter fail to amuse. I mean seriously, how funny is a guy who forgets to shut his umbrella when it stops raining?
The buffoonery starts getting to the viewer as the song in the background goes "Bhatti is gonna get ya…". Right.
So much so that when Kher appears in the role of Abu Siddique -- Bhattis' lookalike -- who doesn't keep jumping and shaking incessantly, it's a relief.
When Bhatti trades positions with his lookalike villain by accident, Bachchan's voice on the phone tells Bhatti that his situation is similar to that in one of his films. A spoof on
Don
?  Well, all I can say is that if Bachchan hadn't said it, no one would have even dreamt of the film being linked to
Don
in any way.
It will be an understatement to say that Anupam Kher plays a pivotal role in the film. In fact there are very few moments when he's not onscreen. As someone mentioned during the screening itself, there is no sub-plot. That is one reason I am not commenting on the talented debutant Pawan Shankar and actress Bhairavi Goswami. They have very little to do in the film.
Another reason is that if a film can make a veteran artist like Anupam Kher look bad, these newbies don't stand a chance.
So to be fair to them, I will reserve my comments on their performances. Bhairavi plays the Villain's moll Katy, and has a lifeless item-number in the film. Sounds like an oxymoron, that one!
As the film nears the end, there is some talk of humanity, Gandhi, Mandela and Martin Luther King -- something about putting a stop to all the violence and animosity. That's all that I can remember. I wish I could tell you more about this one. If only I'd been awake...
Rediff Rating: