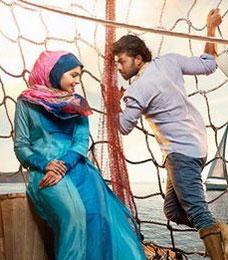 Mosayile Kuthirameenukal is visually enchanting, so watch it in spite of some flaws, says Paresh C Palicha.
Mosayile Kuthirameenukal by first-time director Ajith Pillai settles into cohesive storytelling after a shaky beginning and ends up being quite good. Asif Ali and Sunny Wayne are the leads.
The film starts with Alex (Asif Ali) telling us his sad story sitting in the darkness of a drainage pipe.
He is the scion of a large and rich Christian family, whose male members take pride in flaunting their virility. Alex is the fourteenth child (with a nephew who is 10 years older).
He led a wayward life, overdosing on liquor, women and drugs. This ultimately lands him in prison.
His nephew, who is 10 years older, is in charge of the prison. This makes things a little easier for Alex. Yet, he is convinced that he cannot survive in a place like this for a year.
He starts making plans to escape. He fails many times before ending up in the drainage pipe and prays out of desperation.
A saviour appears before him in the form of Akbar (Sunny Wayne).
The story is on more solid ground from this point onwards. Akbar is from Lakshadweep, and circumstances make Alex follow him to the beautiful islands.
The significance of the title now reveals itself. Kuthirameenukal or swordfish are known for their selfish nature and Akbar seems to be the representative of that in human form.
Snippets from Alex's life prior to his being locked up in prison, why Akbar makes Alex follow him to the island, and the latter's relationship with Isah (Swati Reddy), add layers to the story.
The writing by the director and Vipin Radhakrishnan seems to start on a false note, yet when they find the core of their story, there is no stopping them.
The sea and the beaches make this film a visually enriching experience. Abinandhan Ramanujam's cinematography deserves special mention, especially the underwater shots. They are dazzling to say the least.
Asif Ali excels in playing the kind of role he is known for. Nothing exceptional is demanded of him; he merely has to repeat what he has been doing in other films.
Sunny Wayne on the other hand is a surprise as the central character. This film is a big leap for him because till now he has played the sidekick of the young hero.
Swati Reddy is the beauty any hero would fall for. But Janani Iyer as the love interest of Alex is half baked to say the least.
Mosayile Kuthirameenukal is visually enchanting, so watch it in spite of some flaws.
Rediff Rating: