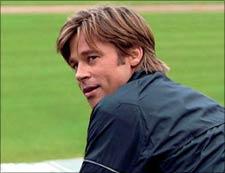 Shaikh Ayaz feels the good thing about Moneyball is that it doesn't play out like a sports film.
Sometimes, it's best not to go by the book, but to turn convention on its head. That is what Billy Beane (Brad Pitt) does in this film set in the world of that quintessentially American sport, baseball. Beane is general manager of a team that is underfunded and loses its best players to other teams. But the film is not about records or statistics or even baseball; it's about this one man who wishes to "shake things up" and produce a winning team. 
Much of Bennett Miller's
Moneyball
is about Billy and his ability to get by, accepting new challenges and keep the good work coming in. Observe him grabbing a bite in between business transactions; he has a sparse family life which we know through the limited screen time accorded to his relationship with his daughter. We don't know if he has any friends, though he does develop a close bond with his assistant Peter Brand (Jonah Hill), an economist who thinks he has an unusual winning formula that Billy is willing
to try out in the teeth of much opposition.
As the general manager for the Oakland Athletics, the task before Billy is to scout for talent and assemble an invincible team.
Moneyball
takes you through the process by which sports teams are put together and what goes on in those closed-door meetings. It's like, in spirit at least, the IPL process where players are traded and transferred depending on their form, fitness and performance.
The good thing is
Moneyball
does not play out like a sports film; in fact, it does its best to avoid looking like one. Brad Pitt occupies centre-stage and aided by a sharply-penned character sketch, strips himself of all traces of a commercial star and becomes Billy Beane.
Billy, a failed baseball player, settles for second best as the manager of the team so that he can be close to the field, something he enjoys inwardly but won't admit to.
Look out for the scene in which he lies down on the field, all alone, proving that he does have a relationship in the end -- and it's with baseball.
Rediff Rating: