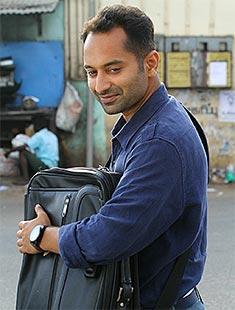 What would happen if you get a bagful of money and do not see the real owner around? Go watch Fahadh Faasil's Money Ratnam to find out the answer.
In debutant director Santhosh Nair's Money Ratnam, the old adage 'money makes the world go round' is stood on its head.
The plot is compressed into 24 hours and revolves around a bag full of money.
What would happen if you get a bagful of money and do not see the real owner around?
Your first instinct would be to hide it from others, then you splurge a little and then give away some of it to the needy, before walking away into the sunset (here it is the glittering night of the new year).
Neil John Samuel (Fahadh Faasil) is the sales manager at a car showroom. He is successful at his job according to his friends who enviously recall his achievements over a few drinks a day before New Year's Eve. The next day, Neil is to be engaged to his sweetheart, Piya (Niveda Thomas), a social worker who helps children with congenital heart disease to get expensive surgery.
Shortly after the friends' get together, Neil gets into a scuffle with some rowdies, and has to run for his life. Somewhere along the way, he lands up with a bag containing Rs 1 crore in cash.
There are a couple of parallel narratives. One is about an invaluable gem in the possession of a group from FortKochi who are to sell it to a wealthy businessman, Isaac Anakkadan (Renji Panicker).
Then there is the tale of a Tamilian couple who have eloped and are helped by Neil who is himself on the run.
The script is credited to Anil Narayanan and Ajith C Lokesh.
The humour is provided by Joju George who plays the partially deaf Gunda Makudi Das, and the group in possession of the precious gem, which has Chebil Ashokan, Sasi Kalinga and some others.
Fahadh Faasil, who has made his mark in the industry as an experimental leading man, has to do a couple of conventional action sequences where he overpowers more than half-a-dozen bad guys, something he seems to relish doing.
Money Ratnam is an above-average, unpretentious entertainer.
Rediff Rating: