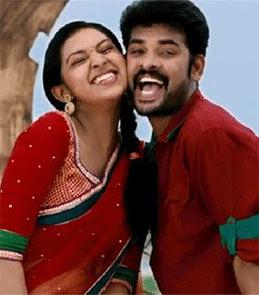 Manjapai is a very predictable and overemotional tale of a meddlesome righteous villager with a heart of gold who unintentionally creates havoc in the life of his grandson, S Saraswathi.
Manjapai (yellow bag) is a derogatory term usually used to describe naive villagers visiting the city.
The expression refers to the ever-present cloth bag that the villager never travels without. The innocent dhoti-clad, manjapai-toting villager is invariably the butt of jokes.
In Lingusamy's Manjapai, directed by debutant N Raghavan, Venkatasamy (Raj Kiran), who comes to Chennai to visit his grandson, Tamizh (Vemal), is the manjapai.
The film revolves around his escapades in the city and its impact on his grandson's life.
Tamizh, now a software professional, was brought up in a small village by his loving grandfather after he lost his parents in an accident.
He is well settled in Chennai with a high-paying job and a luxurious flat in a posh locality. He has plans to settle in America, so when his company offers him an onsite project, he is ecstatic.
Scheduled to leave in three months, Tamizh invites his grandfather to Chennai, but is totally unprepared for all the trouble his grandfather unwittingly lands him in.
Venkatasamy is both enamoured of, as well as disgusted by the people and their life in the city. Though a good soul, he is extremely vocal and violent.
He feels it is his duty to reform the haughty city dwellers, especially Tamizh's neighbours, who are infuriated by his antics.
He also antagonises Karthika (Lakshmi Menon), a medical student, who is in love with Tamizh.
Tamizh is in a tight spot, caught between the grandfather he adores, and his girlfriend and neighbours, who want his grandfather to leave the apartment.
The rest of the film is all about how Tamizh struggles to keep everyone happy.
The director has attempted to highlight the isolated life and callous attitude of people in the city. But most of the incidents seem superficial and predictable.
You don't relate to anyone except Raj Kiran, but after a while, even he gets quite tedious.
He bashes up a roadside Romeo and then slaps the girl's father for allowing her to wear clothes that attract unwanted attention.
He also arranges for a Valaikaapu ceremony for a young couple, who have married against the wishes of their parents.
And then, of course, there is his knowledge of natural medicine, which comes in very handy.
The film is all about Raj Kiran. Vemal and Lakshmi Menon barely make an impression. Their performances are ordinary and they share absolutely no on-screen chemistry.
The film also has no support from the technical team. The music by N R Raghunanthan and cinematography by Masani do little to engage the audience.
The film suffers from a lack of pace right from the beginning to the long-drawn-out tragic climax, which comes as a total disappointment.
Manjapai, with its cliched plot, has absolutely nothing new to offer.
Rediff Rating: