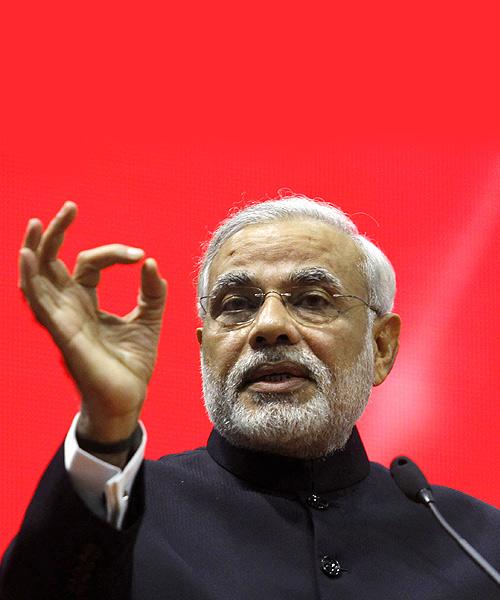 With what joyous expectations I welcomed you! You have tumbled me into a cauldron of gloomy forebodings, says B S Raghavan.
My joy knew no bounds when Narendra Modi was elected with an absolute majority for the BJP. What a miracle! By electing him and his party in such numbers, close to 600 million voters had delivered a resounding slap to what had been described as India's intellectual-elitist mafia which, in collusion with similar vested interests in other countries, had been making the atmosphere putrid with puerile and futile diatribes on communalism, secularism, 'maut-ke-saudagar', and the like, denigrating the country's glorious heritage and pandering to minorityism to the detriment of national interest.
They threw into the dung-heap persons whose knee-jerk reflex at the slightest pretext was to denounce the BJP as an untouchable monster and the RSS as an unmitigated evil. They enthusiastically entrusted the country's destiny in the hands of Modi and gave him a free hand to formulate and implement his ideas.
I was glued to the television screen when he and his team took the oath of office at the glittering ceremony in Rashtrapati Bhavan on May 26, 2014. In my view, he had the whole country looking up to the incredible turnaround he was going to bring about.
It was all the result of his tornado-like campaign and the phenomenal rapport he was instantly able to establish with lakhs of people who thronged to see and hear him. At long last, I said to myself, the country had a leader in the mould of Jawaharlal Nehru.
Indeed, Modi was an improvement on him in terms of crystal-clear enunciation of his ideas and decisive action. I looked forward to a new era and a resplendent political culture at its best coming into being.
The glamour and glitter of the oath-taking gala and the diplomatic master-stroke of inviting the SAARC leaders -- a demonstration of 'inclusive' genius, if you will -- led me to believe that Modi will be a leader with a difference, impressing the world with his discernment, savvy and sensitivity.
Most importantly, I expected him to discard the politics of cronyism, manipulation and machination, show respect for the finer feelings of those who elected him to power and authority, and take care to keep up appearances and avoid creating doubts and misgivings.
Alas, some of his acts have made me wonder whether we are in for the same kind of political behaviour witnessed in the decades after Indira Gandhi and whether it is going to be the time-dishonoured political tactic of 'Tickle-me-Toby-and-I-will-tickle-you' among the members of the political class to whatever party or hue they belong and whichever party is in power.
First and foremost, I will mention his inclusion of Uttar Pradesh's Sanjeev Kumar Balyan, who had been implicated in the Muzaffarnagar riots, as a minister of state. Of course, I know the defence and justification that Modi';s BJP cohorts will vociferously and vehemently advance: Balyan has been framed by the Mulayam Singh Yadav-Akhilesh Yadav duo; he is innocent until proved guilty; blah blah blah.
But Mr Modi, couldn't you have held your hand until the picture about his involvement or otherwise became clearer, by a court verdict? Shouldn't you have taken account of the wrong message that this ill-judged action of yours would give?
Next, Smriti Irani. There are two issues here: One, a 12th class dropout being given a Cabinet minister's rank, charge of the human resources development ministry, one of the most vital for building up the human and social capital as also national character, and for promoting innovation, creativity, scientific temper, skills development and so on.
Of course, in this case too, there will be plenty who, either because of their honest conviction or with a view to letting Modi and Irani off the hook, would argue that in a democracy, it is not imperative that an education minister should be an educationist or even literate; all that he or she needs to have is wisdom, intelligence, grasp and capacity to get things done.
After all, Maharaja Ranjit Singh was illiterate; Sonia Gandhi, who managed the politics of a country of India's complexities and diversities for so long and who is considered indispensable by the Congress party, had no degree; K Kamaraj was an excellent chief minister. But this is an epoch of knowledge explosion and technology revolution and demographic dividend. Shouldn't there be a modicum of credibility commanded by an HRD minister?
The second problem is the imbroglio over Irani's prevarications in her sworn affidavits, tantamount to perjury (a criminal offence), over what her precise educational qualification is. Mr Modi, shouldn't you have done due diligence instead of making people doubt your ability to think through the consequences of your action?
Even assuming that Modi felt Smriti Irani, for giving a scare to Rahul Gandhi in Amethi, should be taken into the Ministry, wasn't HRD or a Cabinet rank a bit much for a person of her background? I think Nirmala Sitharaman on all accounts would have lent lustre to a Cabinet minister's post and would have made an admirable HRD minister.
Finally, the ordinance for easing Nripendra Misra into the chair of the principal secretary to the PM. To me this is outrageous on several counts.
An ordinance for smoothening the passage of a single individual into a job is unheard of, except some 1,000 years ago. Secondly, it is preposterous to issue an ordinance for such an individual in whose case there is no clinching evidence to show he alone is blindingly brilliant and surpasses everyone among the retired IAS fraternity.
I joined the IAS 62 years ago and have by now taken the measure of most members of the service in all the states. If only Modi and his aides had taken the trouble, they would have located at least half-a-dozen officers in their prime with equal or higher credentials, with no need to promulgate an ordinance.
Thirdly, by deleting from the TRAI Act, for the sake of one individual, the most salutary provision guaranteeing institutional independence and integrity of a regulatory authority, Modi has shown the way for all other governments in the future to unscrupulously compromise, dilute and nullify the stringent norms of propriety and probity that should apply to Constitutional and regulatory authorities.
Finally, by making Misra's appointment coterminous with Modi's tenure as PM, he is saddling the PMO with someone who (heaven forbid!) may turn out to be unsuitable, inadequate and incompetent in some measure and for some reason, but may still continue to hold the post.
Et tu, Modi? With what joyous expectations I welcomed you! You have tumbled me into a cauldron of gloomy forebodings.