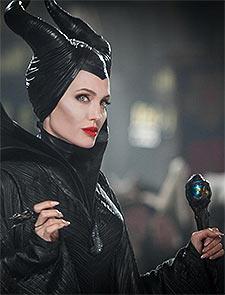 Maleficent ends up disappointing after a decent start, says Paloma Sharma.

Once upon a time, in a land far, far away, lived a brilliant actress named Angelina Jolie, who was loved by all the fair people of her land (and beyond).

She was brave and raw and did not hesitate to take on roles that really spoke to her.

However, one day, something terrible happened. She signed a series of films that greatly underestimated her potential. She is back though. She is reborn and she is oh-so-evil.
It becomes clear early on in the film that Maleficent was scripted especially for Jolie, which is something I won't hold against the film, since she does more than complete justice to the role.
Maleficent is a re-imagined take on one of Disney's classics -- Sleeping Beauty (1959) -- and attempts to explain the other side of the story -- which is wonderful because now I can finally stop wondering about what caused Maleficent to suddenly gatecrash the party and curse a child she had nothing to do with.
Nobody has that much pent up rage without reason.
Maleficent is the story of love, heartbreak and finding the strength to love again -- with no princes coming to anyone's rescue -- extra brownie points for that.
Young Maleficent (Ella Purnell) is a happy young fairy with big, beautiful brown wings, who lives in the Moors, a magical place which has no ruler since everyone "trusted in one another", and is friends with all the trolls and the goblins and the pixie and water sprites; and everything is perfect.

Until a thief shows up from the hostile human kingdom beyond the protected borders of the Moors.
The thief, Stefan, gives back the jewel he stole and ends up befriending Maleficent. Soon friendship grows into love, and love into betrayal.
An insatiable ambition for wealth and power takes hold of Stefan (Sharlto Copley) and causes a great rift between him and Maleficent; and as payback, when he is king, Maleficent decides to take away what he loves most -- his daughter.
Coming from director Robert Stromberg, who has won two Academy Awards for Best Art Direction, Maleficent is a visually pleasant ride but one does wish one could see more of the Moors and less of everything being shot with grey or dull brown tones in the background.
Although Stromberg does manage to make a delightful place out of the Moors, he gives the viewer very little time with it.

There are far too many shots of Jolie looking into the distance, using her eyes as a Kathakali dancer would, and a couple of loopholes as well. While the film is about magic, along with many other things, it would be naive on Stromberg's part to assume that gaps in the script will magically bridge themselves.
Maleficent starts off well.

Even though you know what is going to happen next, you don't really care since it's a fun watch. But the climax of the film, Jolie's badly written monologue and the last fight are just disappointing.

While Maleficent and Princess Aurora (Elle Fanning), or Sleeping Beauty as she is popularly known, are solidly written characters, Stefan comes off as someone who has been treacherous since the moment he was born. '

Stefan's character remains unexplored, which is really sad, because when you have an antihero for a protagonist, it is essential to have a villain with grey shades to complement them.
Thistlewit (Juno Temple), Knotgrass (Imelda Staunton) and Flittle (Lesley Manville), the three pixies, have not had any changes made to their characters (except for appearances, perhaps) and come off as the complete idiots that you always knew they were but never really realised until you see them with the intelligent and articulate Maleficent.
The film explores important themes, such as vengeance, redemption forgiveness and the exploitation of nature by man, and does manage to do a good job without being preachy about it.
Nevertheless, it also has several shortcomings.
But Angelina Jolie makes up for it to some extent with a powerful performance, laced with sarcasm and black humor. Jolie is wonderfully wicked and a couple of scenes that show her flying up into the clouds are absolutely beautiful -- however, the 3D format of the film wasn't really a necessity.
Maleficent seems to have taken a leaf too many out of Frozen's book and doesn't always make very smart choices when it comes to maneuvering the plot effectively.

The events from the climax to the end of the film are a little too predictable and fail to leave the kind of impact that they should have considering the strong build-up.
Packed with lovely visuals and a predictable plot, this film is a one-woman show that could have been a little less brooding. It could have been brilliant but it chose to stick to its seat with its safety belt tightly binding it down.
Its sad when a film fails to realise its own potential.
Maleficent is almost magnificent.

Rediff rating: