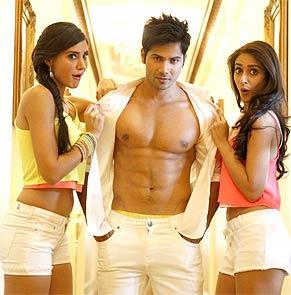 Not exactly meant for family audiences, Main Tera Hero is a refreshingly unpretentious, says Paloma Sharma.
The first in a long enough list of good news is that at least, for once, it is original(ish).

Bollywood has owed us, the faithful, one for a while now and it's been a long time coming.

Perhaps the most refreshing thing about Main Tera Hero is that it features no superstars in the lead role which gives you the chance to watch Varun Dhawan transform from that-guy-who-isn't-Siddharth-Malhotra to Varun Dhawan.

A blend of Salmaan Khan's cool, Shahid Kapoor's energy and Govinda's dance moves, Dhawan redefines the words 'screen presence' with his high-voltage performance.

A slight reminder of a more raw Ranveer Singh from Band Baaja Baaraat, one can only wish Dhawan hadn't debuted with Student of the Year or he'd easily have had a higher ranking among his contemporaries.

Ileana D'Cruz is not to be left behind as Dhawan's love interest, shedding the solemn air from her debut Hindi release (Barfi!) to reveal a more fun side (which I personally prefer).

Dhawan stars as Srinath Prasad, a happy-go-lucky 25-year-old from Coonoor, who is the apple of his mother's eye and the bane of his father's existence. Srinath -- or Seenu, as everyone so lovingly calls him -- hasn't passed out of college in quite a while and his father taunts him over not having earned a degree.

Unable to bear it, he departs from home and ends up in Bangalore at a college called TIFT where he bumps into Sunaina (D'Cruz).

Despite vague warnings from several students, Seenu continues to pursue Sunaina in perfectly filmy fashion but thankfully, this film also features minimal rowdy behaviour on the hero's part, as well as consent.

Sunaina too has feelings for Seenu but is terrified into silence by her fears of what her stalker and his gang of TIFT's most notorious boys might do to him.

Sunaina's stalker is no ordinary man. He is the feared Angad Negi (Arunoday Singh) -- a powerful police officer with severe anger issues who has manipulated Sunaina into agreeing to marry him -- but Seenu is not afraid of him.

Ever the trickster, Seenu devices plan to save Sunaina from Angad but unbeknownst to the three of them, someone else is in the picture; and like Angad, she too equates love with possession.

Before I go any further I should probably clarify that after bearing Aisha and Jism 2, Main Tera Hero has made me fall just a little bit in love with Arunoday Singh. His transition from the big, bad cop to nothing more than soft putty in his lady love's hands is aww-inducing.

Singh
displays great comic timing and greater range as he goes through the film delicately balancing Inspector Angad Negi's persona between black and white.
Negi's assistant, Peter, is portrayed by the evergreen Rajpal Yadav who is back in his element after a while. I'm grateful to the makers of
Main Tera Hero
for giving Yadav the kind of screen time he deserves to be able to truly entertain, and not just be a jester in the court of the kings and queens of Bollywood.
Incidentally, Yadav also has a kissing scene of sorts. Watch out for that one.
After two cringe-worthy releases (
Gang of Ghosts
and
O Teri
), Anupam Kher is seen enjoying his screen space as Vikrant, the
bhai
from India to Africa, who has only one weakness -- his daughter, Ayesha (Nargis Fakhri).
Kher's cheesy, insipid act (
and I mean that in a good way
) is just the boost that
Main Tera Hero
needed in the second half of the film. Meanwhile, Fakhri has improved by leaps and bounds but is yet to really get there.
Main Tera Hero
rests almost solely on the bases of strong performances extracted by a tough taskmaster, director David Dhawan -- who makes a surprisingly clean film for the most part but doesn't seem to have been able to resist the temptation to indulge in a few less-than-tasteful jokes post-interval.
The second half is primarily where the problem lies. The script dwindles slightly. Too many characters with too many subplots emerge, messing things up for a bit.
Nevertheless,
Main Tera Hero
keeps you on your feet and Milap Zaveri's crisp dialogues never fail to extract a chuckle. Artfully edited and kept at just the right length of 128 minutes, it never gives you a chance to yawn.
The soundtrack is thankfully devoid of the usual mandatory sufi-pop track and instead chooses to go the
masala
way, which suits the energy film a lot more. However, the songs still remain largely unrelated to the story and keep cropping up randomly.
Main Tera Hero
largely belongs to Varun Dhawan but not exclusively so.
It is to him what
Ajab Prem Ki Ghajab Kahani
was to Ranbir Kapoor -- and
Main Tera Hero
could have been there, at the same level as
APKGK
, had a little more thought been put into the production design.
Main Tera Hero
succeeds where films like
R... Rajkumar
,
Chennai Express
and
Phata Poster Nikla Hero
failed.
Not exactly suitable for family audiences,
Main Tera Hero
is a total
seeti-maar
,
paisa vasool
film and refreshingly unpretentious.
Also, Arunoday Singh.
Just saying.
Rediff Rating:



In the picture: Nargis Fakhri, Varun Dhawan and Ileana D'Cruz in Main Tera Hero