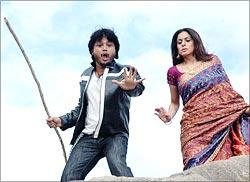 Shruti Indira Lakshminarayana writes that Kannada film Maduve Mane would have made for an ideal family entertainer if the concept had been more novel.

Golden Star Ganesh returns to the silver screen in the Kannada family drama Maduve Mane this weekend. The film is directed by Sunil Kumar Singh.

Suraj (Ganesh) meets Suma (Shraddha) on a train, after dramatically saving her from falling off the train. Naturally, he becomes popular with her family which is travelling with her to celebrate her wedding that is to take place in two days.

Suma's fiance is the upright, hot-shot encounter specialist Dushyanth (Chiranth), whom she is in love with. But that does not stop Suraj from trying to woo her. In fact, he declares that he will marry her in the same wedding hall! Can love blossom during one train journey or does it have a history?
In the first half, Suraj goes about filling the lives of all and sundry with sunshine and one is left feeling a little curious about him. After the interval, though, the momentum fails. Back-to-back songs break the pace of the film and there are just too many predictable situations that remind one of other films. The entertaining first half should have been backed by a racier and fresher storyline.
Ganesh is comfortable as the boy-next-door, a bit of a motor-mouth. He is given enough opportunity for comedy, action and emotions, and uses it well. Shraddha gets sufficient screen space and makes good use of it. The two make a good on-screen couple.
Chiranth, who was last seen in Jugari, has a good screen presence but needs to loosen up a bit when it comes to emoting.
Music by Manikaht Kadri, especially the song Kanne Kudiruvaaga, is soothing, but not an entirely fresh sound. The background music in some places is straight out of Hindi films. There's some good camera work by Shekar Chandra, especially in the beautiful song sequences.
Maduve Mane would have made for an ideal family entertainer if the concept had been more novel and fresh.
Rediff Rating: