'As a woman torn between familial duties and somebody evolving into a person trying to live life on her own terms, Madhuri is ecstatic to watch,' notes Prasanna D Zore.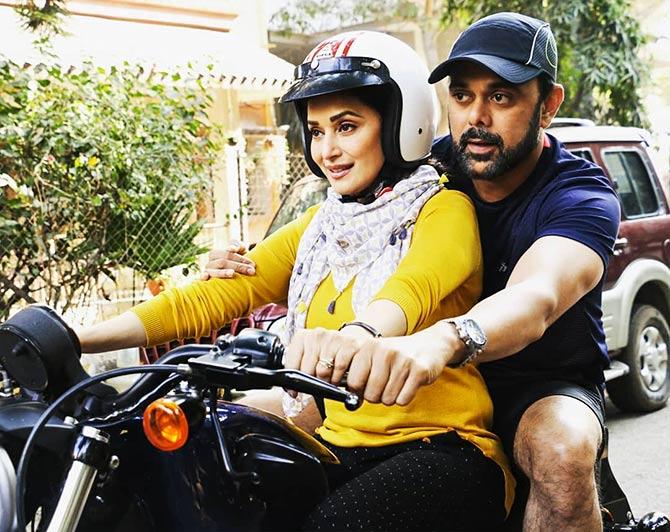 Which is not to say that the film is not worth watching.
Watch Bucket List not because it is Ms Dixit Nene's first Marathi film, and as an actor she does tick all the right boxes, but also because the film explores, although unsatisfactorily, the invisible, delicate bond between the memories of the departed and the living.
The film has its poignant, touching, moments as director, screenplay, story and dialogue writer Tejas Vijay Deoskar treats the subject of bonding between the family of a donor and the recipient sensitively, yet, at times, meanders away from the central theme of the film and that is when you feel cheated.
Madhura Sane, a middle class housewife whose world revolves around her husband, his family and her children, is desperately in need of a heart transplant, and gets one from a 20-year-old accident victim.
While housewives do care a lot about their families, Madhura's concern for her family at the operation table seems contrived, as she asks the surgeon to write down a to-do list that would take care of her family, just in case the operation goes wrong.
But Bucket List is not just about a housewife's concern for her family.
It is about the bucket list of an individualistic, free-spirited girl, Sai Deshpande, that remains unfulfilled as her life comes to a crashing halt, but even in death one of her wishes gets fulfilled: Of donating her organs to the needy.
Madhura, with Sai's heart beating inside her after the transplant, decides to fulfil the departed soul's bucket list.
And there begins Madhura's soul-stirring journey as she connects with Sai's heartbroken parents and brother and tries to convince them how important it is for her to do to express her gratitude for Sai's generosity and free-spiritedness.
So long as Deoskar stays with this spirit of the film's narrative -- helping Sai's parents and her brooding twin brother to bring about closure, to bring them to terms with reality -- Bucket List keeps poking at your heartstrings.
Somewhere, as Madhura sets about living Sai's unfulfilled desires, Deoskar changes track to develop another narrative that looks into husband-wife, mother-children issues and a daughter-in-law's relationship with her in-laws, insensitively spoiling the film's tempo.
The director's shenanigans though are ably camouflaged by Madhuri's charm and versatility as an actor and the film's storyline.
As a woman torn between familial duties and somebody evolving into a person trying to live her life on her own terms even as she fulfils the wishes of a young girl whose heart she carries inside her, Madhuri is ecstatic to watch.
Sumit Raghavan as Madhura's husband and Renuka Shahane as Sai's forlorn mother too leave their imprint on the film. Sumedha Mudgalkar as Sai's twin, who doesn't want to face the reality of his sister's sudden death, is also a treat to watch.
If only Deoskar had not strayed away from the Madhura-Sai script, Bucket List would have been as endearing as the actress who is making her comeback after four years, that too in a Marathi film.
Rediff Rating:

Postscript: Without going into all the items on Sai's to-do list that Madhura fulfils in the film, one wish remains unfulfilled: Of wearing a bikini on a beach.
Is the director already working on a Bucket List sequel?