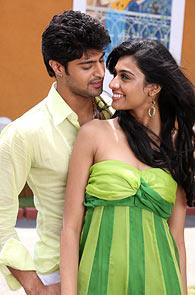 You may like Luv U Soniyo more for its comedy than the romance, writes Nadisha Daniel.

Mark Briganza (Tanuj Virwani) is that typical college-goer who opens a bleary eye each morning, fails in his sleepy struggle to kill the alarm clock, finds his toothbrush near the toilet, sprinkles cornflakes into a bowl of milk, dunks in a rotten banana and attempts to say bye to his father without getting sprayed with a hosepipe.

His most prized possession is his bike and he doesn't seem to have much of an agenda besides chilling in the canteen and attending protest rallies just to get out of sitting in class. Now who hasn't done that?

Soniyo Gill (Neha Hinge) is a simple girl from a restrictive Punjabi family. How typical! She goes to the same college. She's not bold or assertive, but does make up her mind in the end that she's in love with Mark.

All she wants really do is 'live life' and delete the existence of a certain Vikram, her fiancé. She wants to participate in dance competitions, go on protest rallies and enjoy college without going against her family's wishes.

The Aamir Khan-wannabe Professor Khan (Howard Rosemeyer) is fond of dropping an 'Oye teri' or an 'All iz well' whenever he can. And he keeps dancing to Apni toh paathshaala (from Aamir's Rang De Basanti) in the college corridors when he's really supposed to be teaching Biology.

Kuttikaran (Suresh Menon) is the movie's befuddled 'goonda'. He kidnaps Soniyo and Mark but, after a point, realises they don't suit his purpose. So he dumps them on a highway near Goa. That's perfect for Mark who takes Soniyo home to join his grandmother's birthday celebrations.

The movie is your classic lovey-dovey comedy. Directed by Joe Rajan, it has been shot in Mumbai and Mexico.

Throughout the film, Mark can be seen with a cross dangling from his neck or ear. And the whole rosary on display gimmick is really not cool. After all, we can already tell he is Catholic by his name and by looking at his father.
It would be hard to compare Luv U Soniyo to another Bollywood romantic comedy. It's actually heavily influenced by the world of Hindi television soaps -- you know, the kind that thrives on melodrama and where the women are fully decked up and perfectly made up as they wait for their husbands to come home! If you like those kind of soaps, you may like this film too.
Luv U Soniyo is a first for most of its players -- from lead actors Tanuj Virwani and Neha Hinge to director Joe Rajan.
Virwani, who is the son of yesteryear actress Rati Agnihotri, does a better job than Hinge, as he lends certain scenes the right dose of comedy. Hinge comes across as rather fake as the whole perfect-helpless-daughter-forced-to-marry-somebody-she-doesn't-love bit.
The music is not distinctive.
Overall, you may like Luv U Soniyo for its comedy than its romance. It's all very predictable, and sort of lame in some areas. Considering the fact that there are 11 movie releases today, this may not figure in your top five.
But if you have nothing better to do -- as in, literally nothing better to do -- then you could watch this film. But go with a lot of popcorn, the tub kind, so you don't run out. Because you're going to need it!
Rediff Rating: