Lupt starts with some scary moments, but ends up like a B-grade horror film, feels S Ramesh.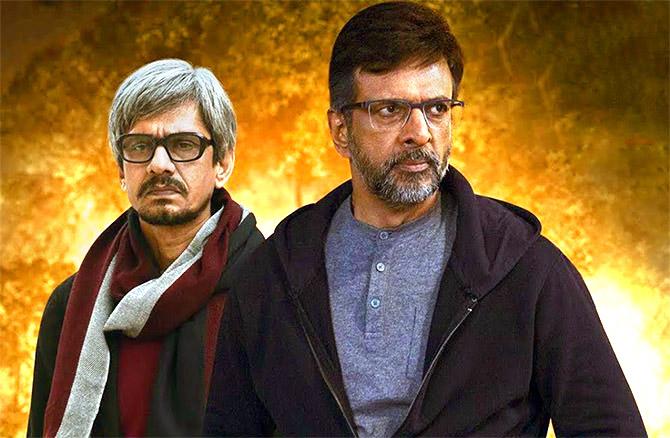 Javed Jaffrey is widely known for his comic timing as well as his dancing skills.
Very few know that after a impressive debut in Meri Jung, Javed was a part of horror films like Woh Phir Aayegi, 7 Saal Baad and Zakhmi Rooh. He returns to this genre after a gap of 25 years with Lupt.
Lupt is about a wealthy businessman Harsh Tandon (Javed Jaffrey) who suffers from insomnia.
Harsh, his wife (Niki Aneja Walia), their daughter (Meenakshi Dixit) and son (Karan Anand) set out for a vacation. On their way, they take a alternate route which triggers off some supernatural happenings.
The story sounds familiar, but it has some merits.
The first half has a few jump scaremoments, which add to the chill factor.
The first half spends a lot of time to build up, with many sidetracks and unnecessary scenes.
Instead of intensifying things, the second half gets dramatic and drags its scenes.
The horror quotient vanishes into thin air.
The drama sequences featuring Niki and later Javed look unrealistic.
The suspense is predictable and dilutes the movie.
The background music is loud and jarring.
The cinematography is decent and tries to cover up some continuity jerks.
The actors struggle to emote in certain scenes.
Javed Jaffrey looks good and is seen in such a role after a long time. Sadly, his character does not have any layers.
Niki Aneja Walia lends decent support, but fails in the emotional ones.
Karan Anand is the best of the lot with a happy-go-lucky attitude.
Meenakshi Dixit fails to act and hardly has anything to offer.
Rishab Chadha is worst of the lot. His expressions and make up are not just up to the mark.
Vijay Raaz is fine in his part.
Lupt starts with some scary moments, but ends up like a regular B-grade horror film.
Rediff Rating: