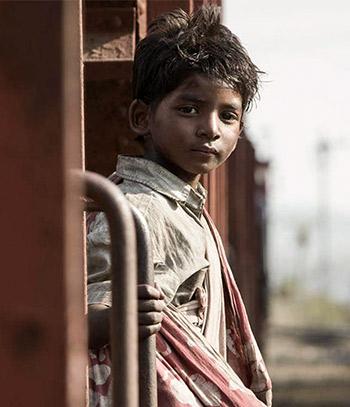 Lion roars because of a magical child, writes Raja Sen.
Sometimes a film works better than it should.
Lion, directed by first-timer Garth Davis and an adaptation of Saroo Brierley's moving memoir, is one of those. This is a film that -- truth be told -- is mawkish, overtly sentimental and tugs at the tearducts far too directly for it to be memorable.
And yet... Yet, this film turns into something affecting and, in long silent stretches, even something beautiful, something worth smiling and sobbing at.
Why?
What has taken this uninspiring material and given it permission to soar?
Why is a feature-length Google Earth advert nominated for Best Picture at the Oscars this year?
The answer is simple and surprising and cannot be argued: Lion roars because of a magical child.
Sunny Pawar, enveloped by a giant shirt and his eyes agleam with curiousity, is irresistible. It is genuinely hard not to gape at this beautiful child and the way he commandeers the screen.
Lion begins with this boy running on train-tracks with his elder brother, expansively earnest in his attempts to keep up. His mouth perpetually stuck in a pucker, Pawar's Saroo is a joy to behold, not least when he strains every little muscle to lift a bicycle in order to show big brother he's ready to go work with him at night.
Saroo and his elder brother, Guddu, are raised by their labourer mother somewhere in the rocky hinterland of Madhya Pradesh, and the boys are constantly keen to pitch in and help out.
Saroo might eye jalebis at the corner store -- his strikingly innocent eyes brimming over with sugar-lust -- but he stores up his dreams for later, deciding that someday he'll have storefuls of jalebis, later dreaming of two thousand jalebis, even.
The film has been described as Dickensian, and its dusty opening hour certainly strengthens that impression. We see this tiny, sprightly Saroo get lost and try to find his way in Kolkata, which looks gigantic around this kid, especially when he's running across a bridge or caught in the bustle of a relentless crowd.
There's a lot to like in these ambient sequences -- sequences where the camera seems to wondrously and slowly drink in the city -- as things unfold mostly wordlessly.
This five-year-old grows into a Tasmanian man who has a lovely girlfriend, loving parents, and a brother he can't stand.
Saroo is now played by Dev Patel, which makes sense given the actor's constant earnestness, but his mannered speech -- the way Patel delivers each line as if reciting punchy poetry, every fourth word swelling with import -- gets in the way. His memories and yearning for the past work well, but any interactions he has with adults seem confounding, and are handled too abruptly.
The rest of the film could be dismissed as a Google advert, were it not for fine performances from the infallible Nicole Kidman who, as Saroo's adoptive mother, speaks with tremendous clarity about why she adopted the boys she adopted. And from the striking Priyanka Bose as Saroo's biological mother, the loving Ammi who never stopped looking for her cub.
As it stands, Lion is a well made and sweet film -- a film that delivers an inevitable lump in the throat without quite earning it -- about a fortunate boy and his quest.
Lion must be commended for being a film about happy endings when they don't seem as fashionable. It may offer a pat on the head rather than a completely satisfying embrace, but it does introduce us to a child we want to hold close.
Rediff Rating: