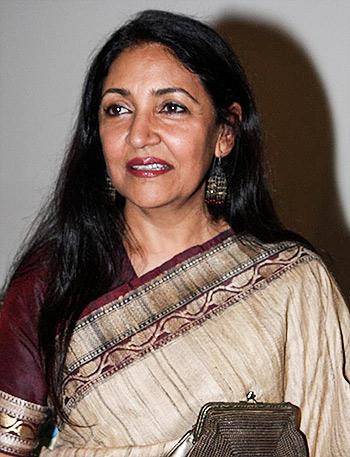 'Dangal could be compared to any Hollywood film.'
Deepti Naval on the movies she loves.
Deepti Naval has only two scenes in the Oscar-nominated film Lion, and she shines in them.
The charming actress tells Rediff.com's Patcy N why she signed up for the role.
How did you get the role in Lion?
Casting director Tess (Joseph) called me because she had seen and liked my work.
She said it was not a big part, but a crucial one because it is the turning point of the film.
She said she was looking for a face with a lot of credibility, that if she tells a child that she has searched a new parent for him and that he should go to Australia where he would have a great future, it should look convincing.
I told her it was a very small role.
She said even if they were only two scenes, they would come at a crucial time and that they were heart-warming scenes.
Both the scenes are with the little boy (Sunny Pawar).
Interacting with a little non-actor, who actually has done a great job, was enjoyable.
He's very naughty though he looks very cute. He has got big eyes.
I kept looking at his amazing face when I reached the sets.
I credit the director for casting such beautiful faces in the film. None of them look out of place.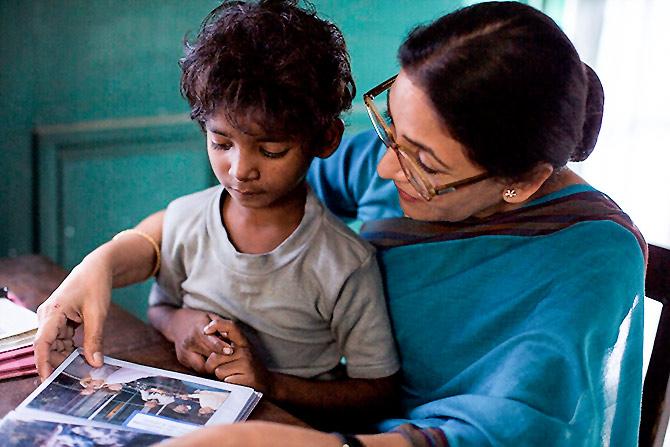 IMAGE: Sunny Pawar and Deepti Naval in Lion.
Did you meet Mrs Sood, who runs the NGO, in preparation of this role?
I didn't have to, but the director wanted me meet her. So I did.
I landed in Kolkata, kept my bags in my room and went straight to the outskirts, where she runs her NGO.
I spoke to her and understood her drive.
She is very down-to-earth, grounded and simple.
There was nothing difficult to understand because she was very forthright, friendly, open and warm.
Did you pick up any mannerisms from her?
If I did, that would distract the audience from the scene.
She told me she wore chiffon saris when she was younger.
But in the film, I have worn organic cotton because director Garth Davis was very fascinated by the malmal border saris that women wore in Kolkata.
So in the first scene, I wore my blue sari, which I though Garth would like.
In the second scene, the light pink sari came from their wardrobe.
I decided to do the scenes in a simple way.
I didn't have to try any histrionics to steal the limelight.
I have never performed that way anyway.
I do my scenes with my co-actor, not against him or her.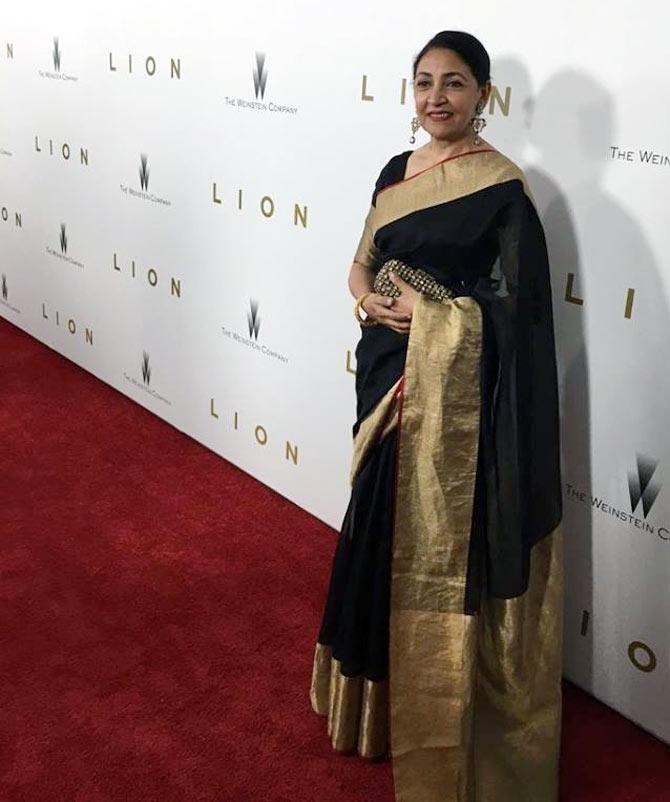 IMAGE: Deepti Naval at the Lion premiere in New York. Photograph: Kind courtesy Lion Movie/Twitter
Nicole Kidman has reportedly said a lot about your sari collection.
Yes. I was a little embarrassed when it was reported that we didn't speak about Lion, that we only spoke about saris.
We shouldn't take the focus away from the film, the direction, the performances and its heart to Deepti Naval's saris!
Nicole Kidman was very good (in the film).
I loved the way she did some scenes.
Dev Patel is a hugely talented actor too.
Are you going for the Oscars?
I don't think so. I will be doing a short film in Kolkata at the time.
You met Bill Clinton at the Lion premiere in New York.
He was very approachable and down-to-earth.
We were introduced to him during the interval. He came across as a very gentle person.
He watched the entire movie and loved it.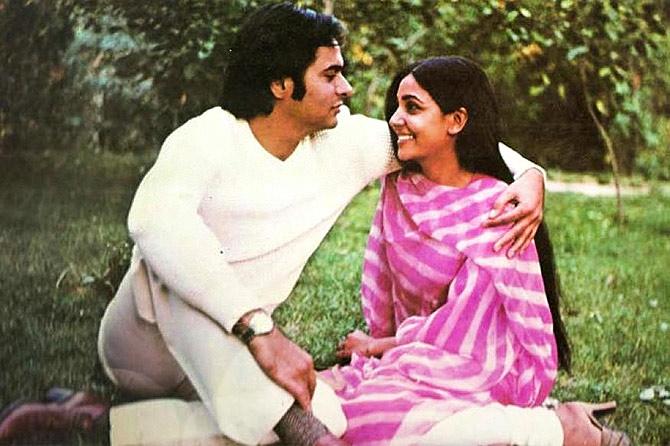 IMAGE: Farooque Shaikh and Deepti Naval in Chashme Buddoor.
Lion and Slumdog Millionaire are Indian stories made by directors from the West.
Just a few like these films and City of Joy, the rest of the Indian stories are made here only.
Piku, Dangal... are stories from India, made in India.
Dangal could be compared to any Hollywood film.
I have seen some good cinema in recent times like Parched.
It is beautiful. Look at all the performances. All the actresses fit the characters. Tannishtha Chatterjee is very good in it.
For me, Piku, Barfi! and Parched are in the same category.
These are not masala films, but genuine cinema.
I love these films just like my own films, Katha or Chashme Buddoor .
They are about real characters, real situations and talk about the times we live in.
It is very exciting to see such kind of cinema.
Do you think you should have been born in this era, when it's easier to make real cinema?
I think it would be better if I was born in Nutan or Waheeda Rehman's era.
I always wished I was born at least 15 or 20 years earlier, so that I would have belonged to the black and white era.