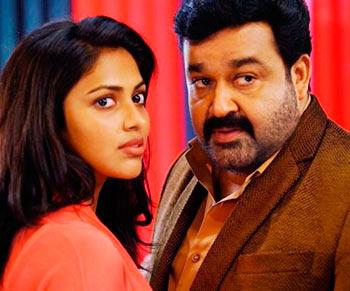 Lailaa O Lailaa is a tacky film that wasted the resources at its disposal, writes Paresh C Palicha.
Why is there no retirement age for people in creative fields? One asks this question after watching Lailaa O Lailaa, directed by veteran Joshiy.
It is such a tacky piece of filmmaking that it's obvious the director should be thinking of hanging up his megaphone, or at least taking a sabbatical.
The lead pair of Mohanlal and Amala Paul does their best to rekindle the magic of Run Baby Run (2012), their previous outing with the same director, but fail miserably.
The film is written by Suresh Nair, who has made a name for himself in the Hindi film world.
The story is about a secret service agency run by the government to tackle terrorism. This agency is so secret that even the spouses of the people working there aren't aware of its existence.
Jai Mohan (Mohanlal) is an employee of this agency. He is busy nabbing a dreaded terrorist on his wedding day and reaches the venue of the wedding just seconds before it is called off by the bride Anjali (Amala Paul).
Jai Mohan's cover is an executive in a company called the Deccan Exports, which is front for the agency. The office has huge display screens (which look like they've been borrowed from a prehistoric science fiction film) tracking everything from humans to cell phones to vehicles.
Jai Mohan has caught Victor Rana (Rahul Dev), a notorious terrorist in Bangalore just days before three important events were to happen in the city -- the Prime Minister's visit, a peace summit and a cricket match.
Even as Jai is interrogating Rana, his new wife keeps calling him to ask what he would like for dinner. Jai's boss, played by Sathyaraj, believes matrimony is anathema in their field of work, but has himself been married for the last 31 years.
Remya Nambeesan makes a cameo appearance as Jai Mohan's first wife.
There is comedy in situations where Jai Mohan tries to hide his profession from Anjali in the first half. Midway, things take a serious turn.
This film is stretched in many directions and everything is shabbily handled.
It is as if the makers hoped that every flaw would be glossed over by the charm of the actors. This does not happen and the actors are not to blame.
The fact is that Lailaa O Lailaa is a tacky film that wasted the resources at its disposal.
Rediff Rating: