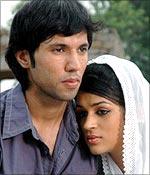 For all the peace efforts -- media-backed projects or special transport between India and Pakistan, the friction between the two neighbours shows no signs of calling it a day.
Applying this backdrop as its base, Sanjay Puransingh Chauhan's directorial debut, Lahore suggests a possibility of truce by adhering to Mahatma Gandhi's lesson in grace -- an eye for an eye makes the world blind.
Ironically, it wasn't granted a release in Pakistan.
Technically, no one says anything remotely anti-Pakistan in Lahore but in this skirmish of keen conscience versus blind ambition, it's pretty clear who's who.
And so you have Indian sportsmanship shining steadfastly in defiance of Pakistan's win-at-any-cost propaganda. Borderline jingoism it may be but that's as far as it goes.
Distributed by Warner Bros, the film, which garnered favourable response at several film festivals, at a running time of a little above two hours is mostly watchable for its exhilarating action in the ring if not exactly an emotionally stirring experience.
Reminiscent of Anil Sharma's Apne and its philosophy of one brother's quest to retrieve the other one's stolen glory by tackling a foul player, Lahore, furthermore, mixes the essence of patriotism through the medium of sport, in this case kick-boxing, with the sentimentality of retribution.
After receiving a major setback involving elder brother Dheerendra Singh (Sushant Singh) at the Asian Championship tournament in Kuala Lumpur,  promising state-level cricketer Veerendra Singh (Aanaahad) abandons his existing career to pursue a last-minute entry in a kick-boxing match.
For a good will contest between India and Pakistan to be held in Lahore (hence the title), it's an awfully cut-throat one.
Plus for Veerendra it's personal too. He's conveniently up against Noor Mohammed (Mukesh Rishi), the opposition team's beefy best bet.
In movies, you always get to confront your worst enemy in the finals, isn't it?  It's as easy as pick and choose. The mere idea of facing an unexpected rival seems to invite a spoof; this is how predictable we have become. Sports genre was never Alfred Hitchcock anyway.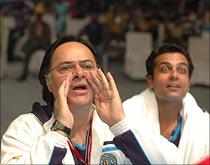 Thankfully, you don't muse on this for too long because kick-boxing, as it turns out, is quite delightful to watch.
Now I am not familiar with the dynamics (Robert Miller acted as a sports consultant on the film) of the game but the seamlessly coordinated dhad dhoom (by Master Tony Leung Siu Hung) is effective on the adrenalin and far more convincing than the dramatic display of histrionics.
Aanaahad, a leaner version of Balwaan's Suniel Shetty, fumbles in scenes that require him to breakdown or communicate extreme intensity.
He's much more believable when he lets his despondent pout and lost gaze convey the same. He's quite impressive in the ring sequences even if a little restraint on all that excessive grunting would have been highly appreciated.
His half-hearted romantic interactions with co-star Shraddha Das (portraying the positive, liberated facet of Pakistan), too, leads to nowhere. Then again, considering her absolutely flat screen presence, you don't even wish otherwise.
What you do aspire for is some clarity in the subtext and detailing in the screenplay. Most events take place in a haphazard manner. You never get a feel or understanding of any character or his psyche because not much background is revealed. Almost everybody in Lahore conjures arbitrary reactions to a situation and pop in and out of nowhere.
You never see Veerendra training for the big match. You never realise the fate of his cross-border romance. You never feel the closeness of his character to his sibling. Some rushed up bonhomie against M M Kreem's smooth melodies is the best Chauhan is willing to dole out.
Surprisingly, he is more forthcoming when it comes to Farouque Shaikh's Hyderabadi-accent spewing coach who good-naturedly manipulates the media without losing sight of his goal or goodness. It's not a lengthy part but it's always a pleasure to watch the actor work up his easy-going magic on screen.
The rest of the cast do the usual -- Sushant Singh (dignified as usual), Sabyasachi Chakravarthy (seething as usual), Mukesh Rishi (aggressive as usual), Shraddha Nigam (coquettish as usual), Nafisa Ali (graceful as usual), Saurav Shukla (endearing as usual), Ashish Vidyarthi (eloquent as usual), Kelly Dorji (exotic as usual) and Nirmal Pandey (in his last film he's asked to do nothing better than glare with kohl-powered raccoon eyes).
Though limited in its story-telling and undistinguished in execution, Lahore redeems itself somewhat by intently playing on the paradox of pacifist intentions realised in the face of a seriously hostile sport.
Rediff Rating: