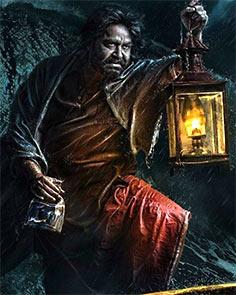 Koothara in colloquial terms means something despicable. Luckily, this film does not live up to its title, writes Paresh C Palicha.
Three boys meeting for the first time in the hostel room of an Engineering college; does it ring a bell? Yes that is the beginning of 3 Idiots, the Hindi film that achieved a cult status in Indian cinema. And, it inspired many filmmakers to copy the same formula expecting to achieve the same success. The latest in the list is director Srinath Rajendran who has made the Malayalam film Koothara using the same template and adapted it to suit the local taste.
Here we have three good for nothing fellows Koobrin (Bharath), Tharun (Tovino Thomas), Ram (Sunny Wayne) coming from different sections of society. As they have come there under pressure to fulfil the dreams of others, they waste their college days indulging in vices like drinking and gambling.
Those behind this venture try to make a light hearted fun film out of this by giving it a comic treatment that makes us laugh initially but soon the whole film turns out to be very shallow.
We have seen college films in the past that begin as comedy but later give us some life lessons in a subtle way. Here also something of this sort is tried with Mohanlal appearing in an unconventional cameo at the fag end of the film and become a sort of a guru to the boys teaching them values that they should embrace in life. But the whole thing somehow falls apart and does not have the desired impact.
The characterisation is also done on predictable lines. One of the boys Koobrin is always chasing girls. Ram is the son of rich parents who work hard abroad to give a good life to their child. And, Tharun comes from a pious family of sorts.
The brains behind the film try to drag this tale for nearly two and half hours so, the situations keep repeating and the actors look bored by their own antics after a while.
There are numerous girls beginning with Bhavana, Gauthami Nair, Janani Iyer and others filling up the empty spaces without giving the viewers a chance to know them as characters. They are simply something that guys fancy or deride.
This story seems to be happening in the last decade when starting an IT company was a fad especially amongst the students dropping out of Engineering colleges and going bust in no time. This is spoofed in this film.
Koothara, is a colloquial term for something despicable or a baser. Luckily, this film does not live up to its title (even though it tries very hard), and turns out to be an average entertainer.
Rediff Rating: