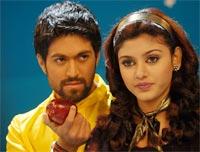 Shruti Indira Lakshminarayana feels Kannada film Kirataka has some good comic moments and makes entertaining viewing. Post YOUR reviews here!
After a long time, a fun filled entertainer comes our way in
Kirataka,
directed by first timer Pradeep Raj with Yash and Ovia in the lead.
Nandeesh (Yash) is a failure in studies but a success in pulling pranks on fellow villagers. His gang of boys are (in)famous troublemakers. But once Netra (Ovia) enters his life, Nandeesh tries to mend his ways. However, a kidnap drama he stages upsets Netra and she decides to end their relationship. Nandeesh does manage to win her back but by then Netra's brother has discovered their relationship and plays spoilsport.
Kirataka
is a breezy entertainer that's easy to relate to, particularly for those from the Mandya and Mysore regions where it is set.
What has also worked for the film is the casting. Unlike in most films, the supporting cast here has a job to do. Starting from the hero's boy gang, every character registers. Sanket Kashi as Panchayat Parmeshi contributes largely
to this laugh riot.
Tara wins hearts with her endearing, non-suspecting mother act. There is never a dull moment in the film when she is around. A child artiste who plays Yash's innocent sister adds value to the film too.
Ovia charms her way through the film and Yash is easily Kannada industry's best brat. The film gives him scope to exhibit his dance moves and at the same time brings out his acting talent. He is playing the role of a village lad for the first time and does a convincing job.
Daniel Balaji is another actor that the industry should cash in on. His character is not clearly defined but he makes a good job of it nonetheless. Famed director Nagabharana has a small role.
There are no complaints about the performances and the plot, but the film is just too long. Several songs are unnecessary and should have ended up on the cutting floor and not one is likely to make it to the top of the charts.
Kirataka
is a remake of the Tamil super-hit
Kalaivani
.
Sargunam should take a bow for coming up with a lively script. If you are in the mood for fun and have some spare time, join
Kirataka
on this joy ride.
Rediff Rating: