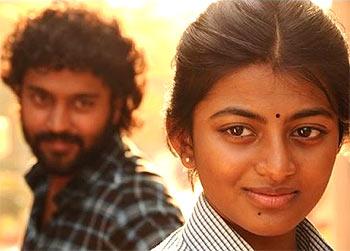 Director Prabhu Solomon's Kayal is heartrending tale of love set in the backdrop of the brutal tsunami of 2004, says S Saraswathi.
Though director Prabhu Solomon has been in the industry since 1999, it was Myna (2010) and later Kumki (2012) that brought him widespread critical acclaim and mainstream success.
Both films narrated a passionate and heart-rending tale of love set in spectacular locations never before seen on the silver screen.
He continues in the same vein, completing his love trilogy with yet another soul-stirring tale titled Kayal.
The film is set in the Kanyakumari district against the backdrop of the devastating 2004 tsunami that devoured everything in its path.
Two extremely talented newcomers, Chandran and Ananthi, play the lovers Aaron and Kayal in the film.
Aaron and his friend Socrates are both orphans who have different and beautiful view of life. They work hard for six months of the year and travel in the next six, visiting places of interest throughout the country.
They believe that life is not a race and neither are they horses, charging ahead at full steam, without taking the time to live and experience life.
Their travels take them to a small village in Kanyakumari. The local zamindar's daughter has eloped with a boy of a lower caste and the family suspect Aaron and his friend, and beat them up.
Aaron meets Kayal, also an orphan, who works at the zamindar's house. She embodies all his hopes and dreams. He falls in love with her.
Eventually, the zamindar's daughter is brought back and the misunderstanding cleared. Aaron and Socrates are released.
Only after they are separated does Kayal realise she too is in love. She leaves the security of the zamindar's home in search of her beloved. But fate has other plans for the two lovers.
The second half is all about the lovers' tryst with the terrifying tsunami.
Extremely young and vulnerable, Chandran and Ananthi are the perfect choice for Aaron and Kayal.
They seem so ordinary, so real, that you find yourself rooting for them and their compelling love.
Cinematographer Vetrivel Mahendran's camera moves with deliberate slowness across their faces, perfectly capturing every smile, tear, joy and sorrow.
An excellent debut performance by the newcomers.
Kayal is the fourth film of Prabhu Solomon and D Imman and as usual, the combination creates magic. The BGM, the songs, lyrics by Yugabharathi and the powerful vocals of Shreya Ghoshal and Haricharan take the film to a whole new level.
The visuals of the mighty tsunami, though, fail to overwhelm or create the poignancy its memory evokes, even a decade after it struck.
Prabhu Solomon's Kayal is a sweet and endearing tale of love with characters that touch your heart, haunting locales, beautiful music and emotions that are simple and true.
A thoughtfully-written script packed with honest emotions, plenty of humour, potent dialogues and excellent performances make Kayal worth a watch.
Rediff Rating: