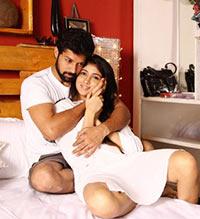 R Parthiepan's Kathai Thiraikathai Vasanam Iyakkam has an entertaining story and is definitely worth a watch, writes S Saraswathi.
As actor or director, R Parthiepan has always attempted something new in his films. His scripts are refreshingly unconventional with a wonderful blend of humour, drama and emotions.
His latest venture Kathai Thiraikathai Vasanam Iyakkamhas the tagline, 'a film without a story'. It is his tribute to 100 years of Indian cinema.
We are treated to some classic scenes from path-breaking films and get a glimpse of the working styles of several top cinema legends of yesteryear.
Parthiepan reveals the winning formula for films in the good old days, discussing what worked in the past, as well as the grievances and expectations of the present-day audience.
The film also deals with the truth behind the glitz and glamour of the world of cinema. It tells us of destroyed dreams, wasted lives and broken homes.
Parthiepan's protagonist Thamizh (Santhosh Prathap) is an aspiring film director with dreams of making it big in the industry.
He is currently working as an assistant director waiting for his first major breakthrough.
He has his own team of eager youngsters, all hoping to be part of the film industry. They are mentored by Seenu (Thambi Ramaiah), a veteran filmmaker, who has devoted his life to cinema but achieved nothing.
Together they are in search of that elusive story which would catapult them to stardom overnight. Everyone pitches in with their own ideas and the result is some highly entertaining comedy.
Thamizh's wife Daksha (Akhila Kishore) is an IT professional with a well paying job, who supports her husband. She also has to put up with the eccentricities of the team, their endless discussions in her home, the intrusion on her privacy, and provide a continuous supply of food and tea.
This invariably ends with tiffs between the husband and wife, straining their relationship.
The team finally agrees on a story, but now they need a producer who will back them. This seems like another hopeless task, as most producers prefer a box-office hit rather than a National award-winning film.
Will Thamizh and his team ever succeed, or will he only end up destroying his family in the process is what forms the rest of the story. Though the pace slackens and the humour quotient is missing, the second half is just as intriguing.
The cast is new, with a host of popular stars making a cameo appearance: Vijay Sethupathi, Vishal, Vemal, Taapsee, Arya, Amala Paul, Prakash Raj, UTV producer Dhananjayan Govind, director Cheran and several others.
Parthiepan keeps us entertained with a series of both amusing and inspiring anecdotes that briefly outline the journey of cinema over the years.
The only let down are the actors, who seem far less passionate than the director. With the exception of Thambi Ramaiah and Akhila Kishore, the others do not make any impression.
But the star of the film is undoubtedly the brilliant screenplay by Parthiepan, the well-written dialogues liberally laced with his trademark sarcastic play of words and the unique narrative style.
Despite what the tagline says, Parthiepan's Kathai Thiraikathai Vasanam Iyakkam has an interesting and entertaining story and is definitely worth a watch.
Rediff Rating: