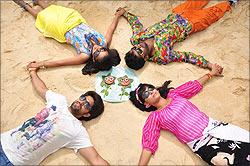 Srikanth Srinivasa feels Kannada film Drama is entertaining but cliched in parts.
Director Yogaraj Bhat's much-awaited Kannada film
Drama 
starts off with two youths Venkatesha (Yash) and Satisha (Neenasam Satish) who are the topic of discussion in their village.
They go about their life with casual disdain. But life changes for Venkatesha when he meets Nandini (Radhika Pandit), a city girl who's visiting the village.
She challenges the two guys to a game of
kabaddi
.
Nandini manages to flirt cleverly with both of them and eventually wins Venkatesha's heart as well as the game.
The two friends later leave their village to pursue studies but they have actually left to search for Nandini. They land in the college where Nandini studies and thus their journey of fun begins.
Nandini promises a kiss every time Venkatesha does something for her. Meanwhile, there's an underworld gang in the backdrop and the college principal is passed off as dead but he is in the 'safe' custody of the two guys. When the college is ready to perform the principal's funeral in public, the principal makes an appearance. 
Bhat
has dealt with a murder mystery for the first time. Barring his first two outings
Mani
and
Ranga
(SSLC) his films have been love stories with the usual dialogue rhetoric.  
Drama
is a comeback of sorts for Bhat to the usual underworld formula and underworld backdrop.
His use of Mandya dialect is apt and funny. The dialogues are the mainstay of this film.
Yash entertains with the use of the dialect with Satish giving him good support. Radhika Pandit once again shines with a performance that required her to pout and put up an attitude besides dressing up glamourously. Suchendra Prasad as the college principal is remarkable.
Actor Ambarish, who makes a special appearance as an astrologer and a narrator lends strength to the movie. Yogaraj Bhat has specially created puppetry-based astrology for Ambarish's character that stands in good stead.
Krishna's camera work is good while Harikrishna's music is a winner. The title song,
Bombe aadisuvanu
and
Tundu Haikala Sawasa
are already popular.

Drama
could have been a little more dramatic but is worth a watch for all the entertainment the young team gives us.
Rediff Rating: