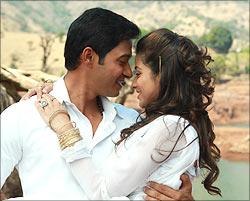 Ankur Pathak feels Kamaal Dhamaal Malamaal is a boring film!

It seems like Priyadarshan is getting impatient to join the league of ultra ordinary filmmakers who get worse with every passing attempt (Nikhil Advani, Ram Gopal Verma, Sagar Ballary).
His new film
Kamaal Dhamaal Malamaal
is so terribly scripted and is so tediously long in its running time, you can go home and come back the next day to find the film still reaching its climax.
Although the prequel was something that I found rollickingly funny, primarily because of its innocently scheming characters and a genuinely laid out dramatic premise, this one belongs to the Wall of Shame of absurdist films.
First, there isn't any coherent story to
KDM
. It is a bunch of events clumped together in an episodic manner that seem like they were part of a long-running Doordarshan television show which never ended.
We might have even endured that, if this was the last film playing in the entire world but you are so assuredly unsympathetic to any of the monkeys in the film, you don't care even if the poor old man called Ghanta Singh – played by Om Puri--jumps in the dry well as he is long threatening to do.
Let's try to put this series of uneventful video-footage posing as film to some logical understanding.
Shreyas Talpade is called Bakri, and is a loser of a kid. At the peak of his youth, he dreams of winning a lottery and kills time by living off his peasant father's hard-earned money, romances a village hottie (who is rival Paresh Rawal's daughter).
The daughter is supposed to be a village belle, but she looks like she walked out of Ritu Kumar's fashion show straight into the gaon. Talpade gets beaten up like 54 times by her goonda brothers, but still is never beaten to death although you occasionally pray that he gets nailed at least once.
His sidekick is an undertaker who offers kids chocolates when they give him news of the death of some gaonwallah. The girl is a misfit, the equivalent of the urban elite, and it is entirely unexplainable why she'd risk her life with an official loser like Talpade.
He is a coward by his own admission, unapologetically jobless and has a dangerously sad sense of humour. There's an attempt to make his dumbness endearing, because he is the only character who is present in nearly all the frames so you better like him, keeping in mind the 27
hours of running time of the film.
The story doesn't move forward from there. The conflict is not established till it's the second hour of the film where Nana Patekar is introduced as Sam, Talpade's long-lost brother. He is helpful in household chores owing to his physical robustness and this gives Talpade the excuse to seek glory in his shadow while using him as a trump card to extort the villagers.
There is no genuine dramatic premise and no conflict between the characters other than physical fights which occur so often that you feel bruised and beaten up and end up not giving a damn about anything or anyone.
The idea of a stranger walking into a village of oddballs and setting their lives straight is best left to Hrishikesh Mukherjee. His Priyadarshan's script-sense and plot-points are too misleading to have any plausibility. Moreover, his central character doesn't evoke just indifference but deep-rooted hatred, disgust and irritation.
Malamaal Weekly
worked because it stuck honestly to its essential idea – the much needed lottery in a village victimised by feudalism.
It had a certified villain in Sudha Chandran, comic relief mixed with upper-class arrogance in Rajpal Yadav's Baajey and a sense of community among the villagers despite their interpersonal conflicts.
The sequel is bland and excruciatingly boring. The lines are so lousy that they inspire the most expressive face-palm moments.
Here are a few gems:
"Jab do bade baat karte hain to mote beech mein nahi bolte."
"Bhaiyya, kela khatam hone se pehle, main khatam ho jaoonga."

When you have writers who believe that these lines work as punch lines, you know you have signed up for a lifetime membership in the lame lines association. The only thing that is worth praising is the way the picturesque lakeside village is photographed by R Ganesh.
Stock characters like Asrani, Shakti Kapoor and Razak Khan keep sneaking in and out of the frame without taking the story forward or revealing any crucial detail of an important character.
It's a scary mix that makes for an unbearable mess. Stay safely away.
Rediff Rating: