'Jack and Dil feels like a marathon to nowhere,' says Sukanya Verma.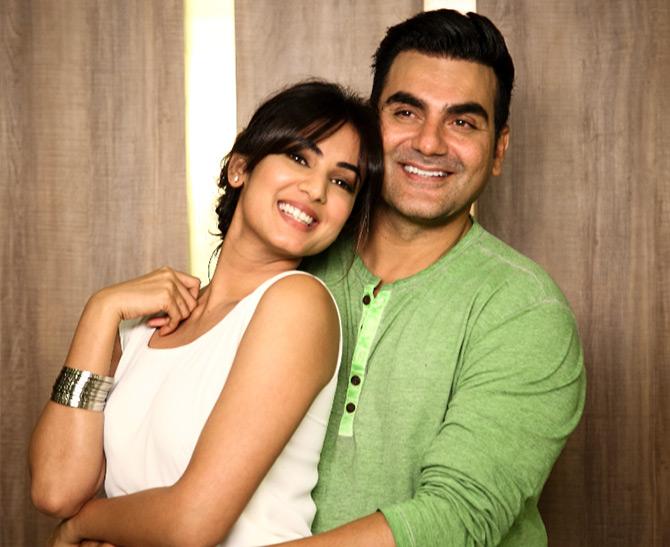 At a time when champion content is available all around and even the most obscure web series pack in promise, nobody is going to bother with a sloppy, nondescript movie just because it got a theatrical release.
A case in point is Director Sachin P Karande's witless and muddled Jack and Dil. It's downhill from the word go. It's like someone wrote the script in their sleep and then dropped a bottle of ink on it.
There's little sense or point to any of it. So Amit Sadh plays a penniless, wannabe writer of detective novels whose shabby abode is desperate for a visit from the raddiwala. Except he's obsessed with a pug and lands up at Arbaaz Khan's bungalow requesting him to part with his pooch.
It's as random as that. Khan runs an ad agency and suspects his wife (Sonal Chauhan) of having an affair -- given how dull everything about this movie is, can you blame her? He hires Sadh to spy on her and promises the nameless dog in return.
Jack and Dil is no film and Sadh no spy. Chauhan sees through Sadh and they become friends. Two extremely bored individuals with another supremely boring guy in common doing everything in their power to rub off this collective boring energy on to the screen, Jack and Dil tests your endurance for drab matter.
Its idea of comic relief pops up every now and then in the garb of Evelyn Sharma's jumpy airhead. We learn she broke up with Sadh after he puked on her and didn't call back. And yet her first reaction on seeing him is demanding he takes his shirt off and show his six packs as proof of his love for her.
Meanwhile a glum faced Sonal Chauhan complains about finding a place where waves will touch her feet and nature abounds. How ridiculous is that coming from a character living in Goa?
The writing is pure junk, be it dialogues 'cheez bikni hai to bikni pehanni padegi and lyrics that go Mera Ishq so strong ho raha hai overflow.
But the real torture is watching a drunk Arbaaz Khan whining about his flop marriage. The usually agreeable Amit Sadh seems to be following a brief that insists he undo all the good work and immerse himself into a cesspool of lousy acting.
Between Sadh's feelings for a dog, two girls and man he may or may not help reconcile with his wife, Jack and Dil feels like a marathon to nowhere. It's not funny when it ends with one.
Rediff Rating: