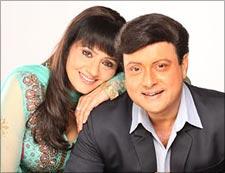 Preeti Arora feels that Jaana Pehchana is a sequel to Akhiyon Ke Kharokon Se. Post YOUR reviews here!
Somewhere in the '70s the Barjatyas' discovered their formulae. Routine mundane stuff which generally was the theme of every off-beat film canned those days. Undying love, family needs before self-gratification, dire consequences for those earn money by unscrupulous means and all that blah. Perfectly timed for the era they were set in. These simple stories, devoid of violence and passion made Rajshree Bros one of the leading production houses.
Even after thirty years, they obviously believe things haven't really changed. So they're busy revisiting their megahits, and wondering how best the same dish can be re-served to a susceptible weepy audience. Their 1976 film
Tapasya
(Parikshit Sahni and Rakhee Gulzar) was turned into
EK Vivaah Aisa Bhi
(Eesha Koppikar and Sonu Sood) with one minor difference.
Tapasya
was a money-spinner and
Ek Vivaah Aisa Bhi
didn't do well even in small towns.
Coming to their 1978 blockbuster,
Ankhiyon Ke Jharokon Se
with Sachin and Ranjeeta Kaur in the lead roles. Loosely based on the Hollywood hit
Love Story
, rich boy (Arun) meets middle-class girl, (Lily) cancer strikes and the boy is shattered, scarred for life. AKJS ends on a tragic note.
Here begins
Jaana Pehchana
. Arun is no longer in college he's channelized his libido into his work, and become a world-famous industrialist professionally, socially he's a recluse. A large portrait of Lily adorns his bedroom wall.
Enter Asha Dayal, a writer who is hoping to write Arun's biography.  Arun doesn't entertain outsiders and would prefer to remain an enigma. The hitch, Asha looks exactly like Lily. He can't turn her away as he's fascinated by her. Asha Dayal is played by Ranjeeta (Lily in the original) but there's no reincarnation. Just a simple lookalike.  It's easy
to predict the rest. An interesting premise. Also saved the producers a lot of money. The first few reels of
Jaana Pehchana
is a straight reprint of AKJS with Sachin sporting his own curly mop of hair and Ranjeeta wearing summery dresses in lemon yellow or baby pink. Sachin as the 20-year-old boy next door prances around with complete abandon.
It's the present day Sachin in the second half with his ill-fitting wig, stiff dialogue delivery and bulky clothing who slows down the film. Agreed he's never got over the love of his life but why does he walk with the gait of a sixty-year old man? Ranjeeta's performance is far more spontaneous and spirited but she's hampered with archaic dialogues such as "
maine anjaane mein unhe kitna dukh pahuchaya hai
". Sachin who is also the director hasn't been able to manage both roles effectively.
Unlike most 'family dramas' which are dotted with an evil
chacha-chachi
, a dominating father an interfering aunt or at least an unscrupulous neighbor, there is a complete absence of any grey characters. Sachin's staff is old-worldly (one of them even refers to him as
babua
) and would lay their life down for him.
The characters live in a perfect world, a second opportunity for love is being handed to them but romance is something which happens once-in-a-lifetime. Reaching out for it a second time around isn't something selfless people indulge in. But in today's times these perfect worlds do not exist. People do not give up on romance or life merely because one relationship ends abruptly. 
It is these good-as-gold characters with outdated values in their simplistic uncomplicated world which make the film unbelievable.
But those eternal optimists -- who are out there waiting for their second chance, believing their knight in shining armor is just around the corner -- will definitely appreciate
Jaana Pehchana
. And the Barjatyas will continue to make similar films no matter how passé the plots appear to us.
Rediff Rating: