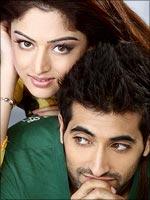 Sonil Dedhia reviews Isi Life Mein. Post YOUR reviews here!
What happens when Pyar Kiya To Darna Kya meets Dilwale Dulhaniya Le Jayenge meets Jaane Tu... Ya Jaane Na?
 
In Isi Life Main, debutant director Vidhi Kasliwal attempts to explore the differences between the ideologies of the urban youth and their more traditional elders.
 
Rajnandini (Sandeepa Dhar) is a teenager from a typical Marwari joint family that lives in Ajmer. A studious girl who finished her junior college as a state topper, she dreams of studying in a good college in a big town, but has been restricted by her father Rajmohan (Monish Behl).
 
Rajmohan is a dignified man. While he is not against the progress of the new generation, he believes children get spoilt once they go to big towns. Meanwhile, Rajnandini's grandmother (Shagufta Ali) keeps an eye on everything that happens in the house.
 
However, Rajnandini is supported by her broad-minded mother Pratibha (Prachi Shah), who wants her to go to Mumbai and continue with her studies. She cooks up a story and says that her daughter wants to join some cookery classes and convinces her husband to send their daughter to Mumbai.
 
Rajnandini arrives in Mumbai and joins one of the most happening colleges in the city. Her life revs up, and the principal tells her to join some extra-curricular activity. She plans to join the Dramatic Society. Now, of course, it's time to bring in the sweet and charming Vivaan (Akshay Oberoi), who is the chairperson of the Dramatic Society.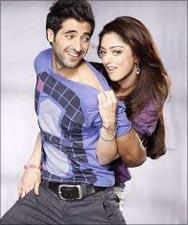 Unlike other movies, here the actress starts off by confronting Vivaan by refusing to let him into the auditorium because he has no entry ticket. The story continues and finally Rajnandini lands up joining the dramatics gang, and takes on a new name: RJ.
 
An All India Drama festival is announced and Vivaan and his gang, without any offence meant to Shakespeare, plan to perform The Taming Of The Shrew in their own way.
 
Auditions start for the play (which looks similar to the audition in Rang De Basanti) and RJ lands up playing the lead role.
 
From there, things get interesting. Somewhat. 
 
Isi Life Mein is no different from any other Rajshri film. It is clear that there have been a lot of inputs from the director's famous uncle Sooraj Barjatya. But there is no denying the fact that the director has made a sincere attempt.
 
Screenplay and dialogues by Sulekha Bajpai go well with the movie. The first half of the story is breezy and doesn't bore you. It's the second half where the story starts to drag. Towards the end, a ballet is performed which is choreographed beautifully but unfortunately it's too stretched.
Akshay Oberoi is impressive but still has a long way to go. Sandeepa Dhar has to get her expressions and her acting skills right.
Monish Behl, as the father, does well. Prachi Shah handles her part well. The rest of the cast fit into their roles and deliver well. Music by Meet Bros' Anjan Ankit is okay.
 
The movie has its own highpoints but it's pretty much like watching Balika Vadhu for two hours. It may find it hard to draw audiences into theatres, also showing Tees Maar Khan and Toonpur Ka Superrhero. 
 
PS: Sooraj Barjatya has finally managed to get Salman Khan back. Yes, Salman has played himself in a small cameo in the movie.
 
Rediff Rating: