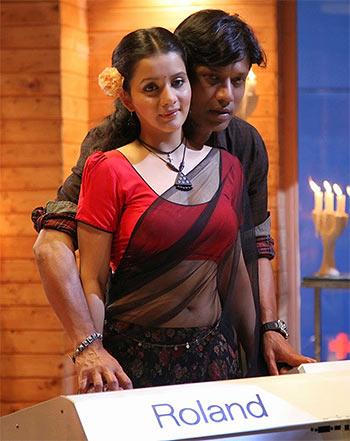 Director S J Surya's Isai is a compelling musical thriller that revolves around an aging egoistic music legend out to sabotage the career of his brilliant protege, says S Saraswathi
The multitalented S J Surya of Vaali and Kushi fame makes an impressive comeback after almost a decade.
His latest film, Isai, marred by controversy, finally hit the screens this weekend.
The film revolves around an aging egoistic music legend and his vicious plan to sabotage the rising career of his extraordinary protégé.
The plot raised much speculation, and it was felt that the film portrayed the allegedly strained relations between the legendary Ilayaraaja and A R Rahman.
Isai is a musical thriller. The director-turned-actor plays the role of the protagonist and has also composed the music for the film.
Within days of the audio release, all the songs created a huge sensation, with Isai Veesi beautifully rendered by Chinmayi, becoming an instant hit. Even the brilliant background score is a credit to this first-time composer.
Television actress Sulagna Panigrahi, who made her debut in the Hindi film Murder 2, plays the female lead, with veteran actor Sathyraj in a significant role.
The long and illustrious career of Vetriselvan (Sathyaraj), a legendary composer, is on the decline. He is arrogant and treats the people around him like dirt.
Tired of his arrogant attitude and repetitive music, an angry director approaches A K Shiva (S J Surya), Vetriselvan's assistant, to compose for his film.
The music is a huge success and Shiva becomes all the rage.
Vetriselvan is stunned. After decades of hard work to be completely upstaged by a newcomer is too much for him to bear.
He decides to destroy the music that is garnering so much appreciation. He starts to toy with Shiva's mind, slowly driving him crazy and unsure of himself. Shiva is unable to focus on his music and begins to lose his clients.
He suspects that the people around him are hatching a sinister plot. Things spiral out of control as Shiva himself begins to believe that he has gone mad.
Surya plays the part with a vulnerability that gives his performance credibility. You empathise with this lost, confused character who has no one to turn to and is pitched against the towering Sathyaraj.
Surya has always given equal importance to his female characters and Sulagna Panigrahi lands a meaty role, which she totally justifies. Definitely an impressive debut.
Sathyaraj is brilliant as the kurta-clad, continually smoking, almost maniacal composer. His larger than life persona adds depth to the character.
Ganja Karuppu deserves special mention for his excellent performance, providing much-needed humour in the film.
On the downside, the film is more than three hours long and the script meanders. But the brilliant music, spectacular visuals, perfectly captured by cameraman Soundar Rajan, and some excellent performances by the lead actors keep you hooked.
S J Surya's Isai is definitely worth a watch.
Rediff Rating: