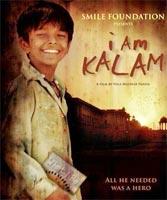 Shaikh Ayaz feels that I Am Kalam is a welcome addition to the genre of children's film. Post YOUR reviews here!


Devoid of absolutely any known name in its cast, save for Gulshan Grover,
I Am Kalam
is a welcome addition to the children's film genre which has often received short shrift from mainstream Bollywood. Playing out like a documentary with scant recourses at its disposal, as if screaming to alienate itself from the commerce that defines today's cinema,
I Am Kalam
is a film with straight-from-the-heart directness, with a boy as protagonist whose drive towards being a tie-wearing 'bada aadmi' gives this film a sense of purpose, ambition and hope.
Chhotu (
Harsh Mayar
), a boy with wandering eyes, is deposited in the safe care of the genial dhaba owner Bhati (Grover) so that he can work and provide for his family of two, his mother and a sibling. Upon watching President APJ Abdul Kalam in a parade on television, Chhotu gets influenced by the great man's personality. When he hears that when Kalam was a child, he worked as a newspaper boy to fund his studies, Chhotu takes upon the name Kalam, a decision that would change his life forever.
The National Award-winning actor Harsh inhabits the world of Chhotu effortlessly, acting as if he's enjoying every minute being on camera. Husaan Saad as the son of the local royalty is a treat to watch.  Usually the bad man, Gulshan Grover unfailingly delivers as a good man every time he is offered such a role (a case in point;
Dil Vil Pyaar Vyaar
).
On the basis of its story alone, this is a winner. However, director Nila Madhab Panda builds maudlin subplots around Chhotu which takes a great deal away than adds to the film. Chhotu itself is a wonderfully alive character, at par with Swami of
Malgudi Days
or Chaipau of
Salaam Bombay!
What connects Chaipau and Chhotu is their sense of awe at arriving at a new place, the latter to a highway-lined
village in Rajasthan and the former, in the crowded bylanes of Grant Road, Mumbai. The similarities are striking; both work as tea boys and change their name. Chaipau, nonetheless, lacks the ambition that drives Chhotu.
The final truth is that
I Am Kalam
rests too much on Chhotu while a film like
Salaam Bombay!
despite giving Indian cinema one of its most enduring child protagonists, relies on its material. That's perhaps
I Am Kalam
's biggest flaw, to overlook other significant characters in favour of one. Because as a coherent whole, this film could have had the potential to reach someplace else.
Nevertheless, there's a certain social consciousness, a message of education being the right of  every child, that is inserted into the narrative as gently as in Amole Gupte's recent
Stanley Ka Dabba
.
Although set in Rajasthan with a heavy presence of foreign patrons who dot the dhaba, including a Frenchwoman who befriends Chhotu, much of
I Am Kalam
is Indian in spirit because it deals with a very Indian problem -- of widespread illiteracy and poverty.
In the end, what contributes to
I Am Kalam
immensely is its metaphor of Kalam, the scientist with an almost magical ability to bind people, especially children. Kalam today stands for education, poverty and above all, an abiding love for children, in much the same way Nehru once did. If socialist films were dubbed Nehruvian, would those with child protagonists working their way through life for higher goals and purposes in a brave, new future-time be hailed as Kalamian? 
That as it may, Chhotu idolises Kalam and even apes his hairdo. This reminded me of what Javed Akhtar has often said, about his days of growing up, "I was obsessed with poets like any other kid would be of filmstars." You become what you are and not you are what you become. Aspiring to be a poet, Javed became one, eventually.
There's a possibility that some day boys like Chhotu will grow up to lead this country. Whether he wears a tie, a Nehru jacket or styles his hair like Kalam, is entirely his discretion.
Rediff Rating: