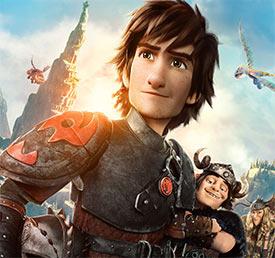 How To Train Your Dragon 2 is a decidedly darker, deeper follow-up to the original, says Sukanya Verma.

How To Train Your Dragon impressed with its remarkable possibility of coexistence between the fiery Vikings and temperamental dragons.

Add to that some well-timed wit, a dash of sentimentality, a cuddle-worthy dragon and the Dreamworks animation entitled itself to a sequel.
What's great about How To Train Your Dragon 2 is that it doesn't take its inevitable existence for granted. Rather it's a continuation of the tale instead of yet another victim of the forced franchise syndrome.
In this decidedly darker, deeper follow-up, the story steps out of its comfort zone to embrace extreme challenges and impart a lesson in nurturing and compassion.

It may not possess the perky spirit of its predecessor but lays out enough merits on its own to enjoy just the same.
How To Train Your Dragon 2 resumes five years after we last visited Berk, the bustling Viking village and home to our visionary hero Hiccup, his burly chieftain dad Stoick, spunky girlfriend Astrid and, most importantly, a supremely adorable fire-breathing friend -- Toothless, a Night Fury dragon with leathery black skin and golden yellow eyes.
In this time, the socially inept, sarcastic Hiccup has enhanced his engineering skills and Berk has beautifully adjusted to its flying inhabitants. But there's still some coming-of-age to do, Hiccup isn't quite ready to bear the burden of his father's social responsibilities.
An ardent explorer, he seeks new worlds, newer experiences unlike his ladylove or mates still relishing the last bits of adolescence in a power-packed game of Dragon Racing.

The movie begins with a vibrant report of this contest, which resembles the quickness of Harry Potter's Quidditch and aggression of Rugby and cuts to the magnificent mid-air antics of Hiccup and Toothless.
Dean DeBlois, co-director of the last one (with Chris Sanders), retains that pulsating rhythm of the first film here too as well as the elegant design -- some more variety of stunning dragons in bolder colour schemes and intimidating enormity.

If the perilous Dragon Nest provided the most enigmatic visual in the previous edition, the exquisite Dragon sanctuary in all its multi-coloured brilliance is a majestic sight to behold. Such wizardry comes alive beyond words in 3D.
But its focus isn't only the beauteous; How To Train Your Dragon 2 conjures many a moments of dread, eeriness and brutality prompted by its barbaric antagonist Drago Bludvist (Djimon Hounsou), which may be too intense for the tender tots in the audience.
Confronted by such belligerent, big-scale odds, it's obvious the clash won't end as favourably it did the last time.

And so here, DeBlois goes full throttle to deliver a dramatic spectacle, in the blockbuster vein of recent summer releases like Godzilla and Edge of Tomorrow, led by the mammoth alpha dragon, Bewilderbeast and his menace-wreaking master.
Aside its kinetic wonderment relating swooping dragons blowing plasma ice and fire, How To Train Your Dragon 2 is also about discovery, accountability and pacifism. And that's where Cate Blanchett's free flowing emotionality comes in. She plays the mysterious, sensitive Valka and her link to Hiccup and the story is best discovered on screen.
Voice work by the actors Jay Baruchel, Gerard Butler, America Ferrera Craig Ferguson, Hounsou and Blanchett ranges between spunky to serviceable but none of it bears the distinction of Dreamworks' Shrek or Kung Fu Panda.
Having Toothless for a pet is no cakewalk but Hiccup finds the balance between the creature's soul and his own instincts to overcome physical limitations and soar new heights.

How To Train Your Dragon realised it. How To Train Your Dragon 2 confirms it.

Rediff Rating: