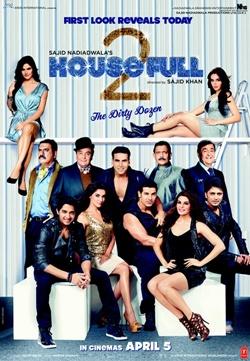 Raja Sen says Housefull 2 is an unfunny mess.
There's a little glimpse of Raj in every Kapoor. Over the years, as Shammi and Shashi developed their own styles, as Randhir harmlessly tickled, while Rishi revolutionised young romance and as Ranbir continues to blaze his town trail, the men in the family have often showed off momentary, unmistakable flashes of Raj.
Sajid Khan's new film reunites Randhir and Rishi, putting them in derby hats and preposterous bowties, giving them horrible lines and offensive characters, with puerile humour and much ham on display. The only Raj we see in the lads here is the embarrassing Raj of better forgotten excursions like Gopichand Jasoos. One can imagine the Showman, peering from on high, cringing.
Exasperatingly abused as they are by the script and the maker, the brothers however remain the less agonising parts of Sajid Khan's
Housefull 2
, a grotesque film that seems to have been put together by a particularly sadistic ten-year-old. The fact that a film like this gets a budget and a release is befuddling and alarming, with several of the 'actors' involved vying fiercely for the Worst Of The Lot award.
That is, as you can expect, a contest going right down to the wire. There's Shreyas Talpade, impressively making us forget the days of yore when we used to applaud his performances. There's Johnny Lever, phoning in idiocy that has gotten really, really old. There's John Abraham (a frontrunner, no question) who basically plays a preteen girl in an athletic man's body. There's Chunky Pandey, making Benny Hill look subtle. There's Boman Irani, screaming so much we get to know his tonsils. And there's Akshay Kumar, performing competently enough (as he routinely does in these Priyadarshanny piles of slop),
but flaunting his incredible folly merely by participating in this tediously unfunny enterprise.
And there are the girls, each a vision of interchangeable moronity. Jacqueline Fernandes and Asin play screechy environmentalist bimbettes scared of trees and sand, clueless rich girls with anger issues. Zarine Khan - looking like Katrina Kaif slapped around a bit and then placated with a tubful of ghee - is mercifully not given much to do, though one imagines her role as a Kat - lookalike unhealthily obsessed with getting married might plague a drunken Salman if he ever watched the film. Then again, nightmares abound for the rest of us as well. Watching the ravishing Malaika Arora Khan show off her Transylvanian mouth in a non-dance sequence is enough, honestly.
Look, I have nothing against stupid comedies. The keyword, however, for Khan's films is that he stresses the stupid part much too much, and all at the expense of the laughs. Even a basic, childishly simple gag - where a compulsive thief walks out of a sauna and pinches a character's towel - is turned flat by Khan's perplexing decision to equip that character, and only that character, with a towel for his head, which basically means he can wrap it around his privates and saunter out instead of being genuinely starkers and embarrassed. And so we have Chunky Pandey hiding behind a towel - a towel he's holding in his bloody hands - and crying about how he wished he had a towel. Come on, Sajid, at least try to see the joke through, foolish as it is.
Housefull 2
is shamefully bad. So bad that Ranjeet - the rapey villain of yore - who appears in one scene, is the most dignified thing about the film.
Rediff Rating: