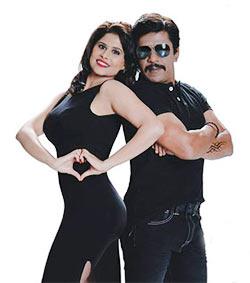 Marathi film Guru Pourina examines human relationships with greater honesty and with a better hold on reality than its big budget Bollywood counterparts, feels Paloma Sharma.
Girish Mohite's Guru Pournima has an incredibly misleading title.
Therefore, being the granddaughter of a lovely, conservative lady who went to watch Dev Anand's Hare Rama Hare Krishna because she thought it would be a religious film, it is my duty to warn all the Alok Naths out there that this film has less to do with sanskaar and more to do with pyaar.
Guru Pournima manages to open with the cheesiest sequence of all time -- rich man with a random tattoo gets out of his BMW and sits under a tree in the middle of a college campus in order to reminisce the good old days, while young students watch and talk about him with admiration.
Oh, also, said man has a salt and pepper goatee that is stuck to his chin with bad glue.
However, once the flashback begins, the film becomes delightfully engaging.
Guru (Upendra Limaye/guy with random tattoo) is a talented but unknown director, who runs a small ad agency. He mentors Pournima (Sai Tamhankar), a talented actress. They belong to the same drama troupe.
When Guru plans to make a short film and casts Pournima in the lead, her conservative parents are dead against it, equating the acting profession with prostitution.
Despite their threats and warnings, Pournima has her heart set on acting and runs away from home to shoot for Guru's film. Guru doesn't find out about it until the cast and crew pack up and are ready to head home.
Pournima's parents disown her when she returns home due to which which she and Guru end up booking a room in a shady lodge, in the middle of the night.
And as shady
lodges go, the police raids it.
In order to save the two from being booked under the charges of soliciting, Guru's friend-cum-business partner pretends that the two will be married soon, and Guru's kind-hearted yet nutty mother believes it.
That's when all the trouble really begins.
Guru Pournima is well cast. While having Sai Tamhankar play both mother and daughter seemed risky at first, the actress manages to pull it off with ease. Her physical transformation for both roles is worth applause.
Upendra Limaye is equally committed to his role. Sometimes you think him kind, sometimes he comes off as a bit of a jerk but Limaye works according to the script.
Although the film could use *much* better camera work, especially during dance sequences, along with some songs that would be less embarrassing to watch, it has a solid foundation.
The script is solid and the director never loses sight of the destination, thus ensuring that the journey is a smooth one for the audience.
Writers Swapnil Gangurde and Jitendra Desai don't have the newest, most mindblowing concept when they write but it is a story about family that is retold in a refreshing and touching, albeit a slightly Abhimaan-ish, way.
The script is divided into acts with precise cuts, but the scenes portraying domestic violence need to be handled more seriously.
A major chunk of the film is told through Guru's perspective. One only wishes we could know more about what was going on in Pournima's mind.
Mohite intends to have the final scene bring tears to your eyes, but somewhere fails to bring that kind of impact.
Guru Pourina examines human relationships with greater honesty and with a better hold on reality than its big budget Bollywood counterparts.
It is an engaging, sensitive and not frills film that deserves at least one watch.
Rediff Rating: