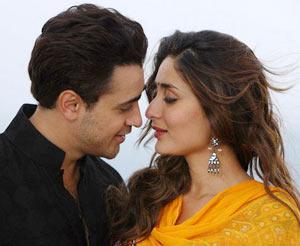 'The way Gori Tere Pyaar Mein album begins, one wonders if there would be many memorable moments in it, but it ends up engaging and satisfying,' says Joginder Tuteja.

Vishal, Shekhar, Punit Malhotra, Karan Johar and Imran Khan had come together for I Hate Luv Storys which had boasted of some good music that continues to be popular.

Naturally, expectations are high when the team reunites for Gori Tere Pyaar Mein with the added attraction of Kareena Kapoor.

Anvita Dutt, Kausar Munir and Kumaar are the lyricists who are known for some quality work with a contemporary feel.

The first song, Tooh doesn't grow on you even after repeated hearings. It tries to be peppy, fun and even innocent, but comes across as an ordinary number that makes one wonder why it has been placed at the very start of the album.

Mika Singh, Mamta Sharma and Shruti Pathak come together for this number that tries to fuse Western influences with some Indian rhythm but doesn't really cover the distance.

1960s inspired ditty Chingam Chabake, sung by Shalmali Kholgade and Shankar Mahadevan has a rural sound.

Though there is some attempt to pep up the song with added beats and arrangements, it doesn't quite work. Yes, it is better than Tooh, but then one has heard better from Vishal-Shekhar over the years.

When Dhat teri ki arrives, you finally sense some redemption. The composer duo brings on some true-blue club sound.

Contemporary to the core and taking on from where the title song I hate luv storys left
off, this one comes with a remix version.
The way new find Sanam Puri sings this one, along with Aditi Singg Sharma, rest assured it will be played on repeat mode on New Year's Eve as it goes well with the stage and setting of a late night party.
The album sees further life added to it with Kamal Khan and Neeti Mohan coming together for a love song,
Naina
.
A song that brings a smile is
Dil duffer
. This one is set in the same space as the music in Vishal-Shekhar-Karan Johar films.
Easy on the ears and very well sung by Nitesh Kadam and Shruti Pathak, it has an attention grabbing mukhda to it with some good pace, momentum, and spirit that is maintained during the antara.
Last to arrive is a situational number,
Moto ghotalo
, which has a folk flavour and may just fit well into the proceedings of
Gori Tere Pyaar Mein.
Sung by Sukhwinder Singh and Sanah Moidutty, it reminds one a little of the sound of
Dil haara,
from
Tashan.
The album concludes with
Gori Tere Pyaar Mein
-- Mashup which does its job well in combining each of the six songs from the film in three minutes flat.
This one could well make it to the clubs. The way
Gori Tere Pyaar Mein
begins, one wonders if there would be many memorable moments in the album. However as it proceeds, especially starting with
Dhat teri ki,
the soundtrack gets quite engaging, resulting in a pretty good album.
Rediff Rating: