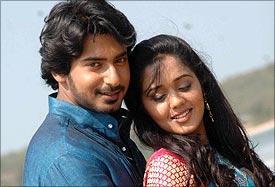 Gokula Krishna deals with a topic that is slightly outdated in the context of Indian society today, says Srikanth Srinivasa.
Director Jaya Kannan has chosen widow remarriage as the theme for Gokula Krishna, an issue that is now rather archaic.
The only positive thing about the film is probably the fact that it is a family entertainer that banks totally on sentiment and the joys of living in a joint family.
The film starts with Gokul (Prajwal) joining a private company run by his father's friend. Gokul wants to enjoy life before taking on any responsibilities.
He falls for his colleague, the glum-faced Aishwarya (Ananya), who is a tough nut to crack. She is seen as a man-hater and Gokul faces a strange situation before he is able to win her over.
Aishwarya leaves the job and goes home, where she has a big family.
The hero, calling himself Krishna, worms his way into the family circle and wins the hearts of all the family members, including Aishwarya's
grandfather who is rigid in his views about widow remarriage.
Obviously, Aishwarya is a widow.
How Krishna brings the family around forms the rest of the story. Whether he does the same with Aishwarya is revealed in the end.
Prajwal Devaraj looks cool throughout the movie and has lived his role well, especially as Krishna.
Ananya, who shot into the limelight with the Tamil films
Nadodigal
and
Engoyum Eppothum
, doesn't convey much.
Doddanna as the grandfather has done justice to his role and so have Jaijagadish, Srinath and Sadhu Kokila in supportive roles.
S A Rajkumar has composed some catchy numbers but they may not linger in our minds for long. The background music is louder than the dialogues, which is irritating.
Vinod Bharathi's camera work is good, especially in the songs; he has captured some picturesque locales.
The film is an average family entertainer, devoid of the usual
masala
.
Rediff Rating: