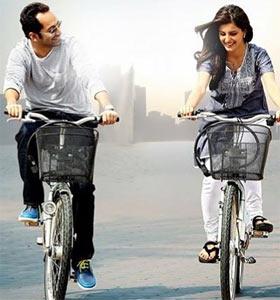 God's Own Country is over-written -- characters explain everything in words when a mere change of expression would do, says Paresh C Palicha.
Malayalam filmmakers have not got over their obsession with multiple narrative structures with a dozen characters criss-crossing each other's paths.
There are crimes, streetwalkers, money laundering, drug deals, killing by gangs in director Vasudev Sanal's new film God's Own Country (the title borrowed from Kerala tourism advertisements).
The film is reminiscent of Rajesh Pillai's Traffic (2011) and Lijo Jose Pellissery's City of God.
Manu (Fahadh Faasil), an expatriate, lands in Kochi to deliver Rs 75 lakh as blood money to the wife of a man killed in a road accident by his wife Asha (Isha Talwar).
He has come with his baby girl who is still on the feeding bottle. Abhirami (Mythili), a writer with supposedly a great future, comes along as a help. His reason for his leaving home was an inter-religious marriage.
The second major character is taxi driver Muhamed (Lal) who is running around to arrange a huge amount of cash for the surgery of his critically ill child, who will be made to leave the hospital if he is unable to come up with the money by that evening.
Mathen (Sreenivasan) is a public prosecutor appearing in a Nirbhaya kind of gang rape case of a minor girl. It is the day of the final argument and verdict in the court. An MLA, Vakkachan (Nandu), whom the girl had claimed was her father, was suspected, but he had an alibi.
It film is about the experiences of these three people. The narrative is complicated with lots of flashbacks, split-screens and other devices. After a while, these techniques become predictable and we can guess what the characters are going to say.
This film is over-written -- characters explain everything in words when a mere change of expression would do.
The three main actors look stiff and unimpressive. Only Sreenivasan displays his brand of dry humour in the initial stage of the film.
There are at least a dozen supporting characters who play pivotal parts in the narrative.
God's Own Country is cliched and predictable.
Rediff Rating: