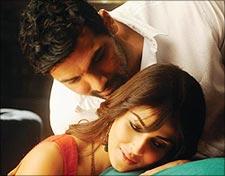 Sukanya Verma draws up a pros and cons list for the readers to to decide if they want to watch Force. Post YOUR reviews here!
A viewer's Friday is a lot like
Hamlet
's famous quote with a slight change of verb -- to watch or not to watch. Among this week's many releases is Vipul Shah's
Force
starring John Abraham and Genelia D'Souza. Now, I have seen it. Should you too?
Hamlet
had no assistance but you do. Read my list of pros and cons, my dear film buffs, and you'll have your answer by the end of this review:
Watch: 
Curious about director Nishikant Kamat's latest? His acclaimed works like
Dombivali Fast
and
Mumbai Meri Jaan
established Kamat's credentials as a filmmaker to watch out for. Here too, he tries to establish a gritty pace against the backdrop of India's throbbing drug mafia network and narcotics control. The
Sarfarosh
-meets-
Dum Maaro Dum
scenario makes for a promising premise, right? You think.
Do not watch:
Because you're bone tired of Bollywood's unstoppable need to remake every second, successful, exaggerated, action-packed production made-in-South.
Force
, too, is an official remake of Tamil hit,
Kaakha Kaakha
starring Suriya.
Watch:
Suriya, it may be recalled, played the lead in the original versions of money spinners like
Ghajini
and
Singham
. Pray, where would half of Bollywood's macho population be if it wasn't for this dynamic superstar of Tamil cinema?
Do not watch:
Stereotype unlimited. There's a strong, silent cop (Abraham), a chirpy talkative NGO worker (Genelia), a bunch of good-humouredly bantering friends (Mohinish Behl, Sandhya Mridul) and a brutal, revenge-thirsty villain (Vidyut Jamval). Do the math. Or better still watch
Pratibandh, Rakshak
, you'll get the gore, er, gist.
Watch: 
For its supremely badass antagonist played by newcomer Jamval. He's alternately cool, aloof and menacing.  It's bad news for the hero when you begin to buy the villain's version and attitude.  Frankly, the only time Force lives up to its name is when this lean, mean-machine shows up.
Do not watch:
Films like Force work purely for superficial reasons. A lot of it, which is generated from the leading man's explosive, nonconformist and unconquerable personality, makes implausible seem fun whereas ridiculous transcends into larger-than-life. It's a theory as simple and silly as that. John Abraham has the physicality but not the chops to deliver what it takes. He fails to evoke any emotionality, zeal or recklessness in his ACP Yashwardhan.  There comes a point when he (presumably) scowls, '
Haasi nahi gussa aa raha hai
.' Seriously, bro, can't tell. Such vacant expressions don't make any sense unless you're auditioning for RoboCop.
Watch:
That much publicised
physique, perhaps? Having said that, hasn't he already flaunted that perfectly beefy torso in film after film?  What's so special about piling on a few extra muscles? Body building is a provisional gimmick and makes a point only when accompanied with a startling element. Like, say, Aamir Khan in
Ghajini
. Now that was a bombshell. 
Do not watch:
While it's incredible how Genelia can play the epitome of effervescence over and over again without running out of her bubble supply, a little variety never hurts. If only she'd oblige without succumbing to a wardrobe of flashy costumes in the middle of an awkwardly inserted Harris Jayaraj song (songs actually) every few seconds.
Watch:
Only if you're desperate to catch some big screen action. Even if you've already seen all the prominent stunts in the promos. Even if it's predictable to the extent where you can tell the exact angle of the next jaw to get punched.  Nevertheless, John doing some Ethan Hunt-inspired mountain climbing or the closing combat between a shirtless him and Vidyut is one hundred per cent brawn porn.
Do not watch:
Here's the thing. For a genre that works purely on moronic logic and one-note screenplay,
Force
never had much to accomplish in the first place. But its complete lack of individuality or snap makes it a boring, banal, blah and bleak experience.
Rediff Rating:



Also Read:

Genelia: John's body is so amazing John Abraham: A Force to be reckoned with John: I am not in touch with Bipasha